Tesla Just Hired a Famous Apple Programmer to Run Autopilot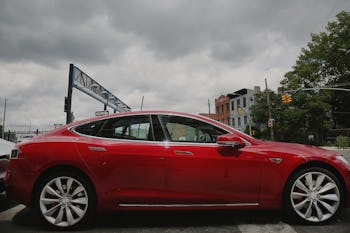 Getty Images / Spencer Platt
Tesla has snapped up one of tech's best minds to front its autopilot efforts. Chris Lattner, who until recently was senior director of Apple's developer tools department, was announced on Tuesday as Tesla's new vice president of autopilot software.
Lattner has an impressive resumé. He first joined Apple back in 2005 as a senior compiler engineer and tech lead, rising up the ranks to reach senior director in September 2011. In 2010, Lattner started development of what is possibly his greatest achievement: Swift, a new programming language designed to for developing apps on both Apple platforms and Linux. Its launch at the company's Worldwide Developer Conference in 2014 stunned developers, who had no idea Apple had spent the past four years designing a modern language.
"This is a "holy shit!" hiring by Tesla," Apple blogger John Gruber said on Tuesday. "A year or two ago it felt like Apple was gunning for Tesla's lead in electric cars. Now, it feels like Apple is out of the car game, and Tesla is gunning for Apple's lead in computing. You can't overstate what a star Chris Lattner is."
It's easy to see why Tesla would need a mind like Lattner's. The company is working hard to enable autonomous driving in its recently-launched Hardware 2 Tesla vehicles. Tesla has publicly stated it aims to achieve autonomous cross-country road trips by the end of the year. It's a big task, as industry peers believe 2020 is a more realistic timeframe, but Lattner could give the team a boost in reaching their target.
"Tesla's approach to building an autonomy platform is focused on high compute efficiency machine learning," Musk said on Tuesday. "Primarily vision w radar & sonar."
Ted Kremenek, currently senior manager of languages and runtime, will take over from Lattner as head of Swift. Lattner will take over from Jinnah Hosein, SpaceX's vice president of software, who will now return to serving full-time in his role at SpaceX.