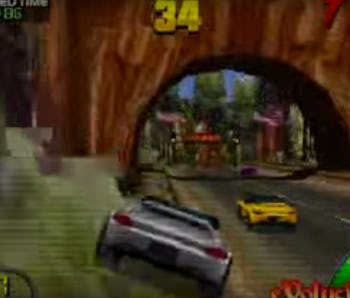 Gaming
The Tunnel Tree Is Dead, But You Can Still Visit in 'Cruis'n USA'
That tree with a hole in it left another hole ... in our hearts.
The Pioneer Cabin Tree, a quirky California icon, is no more. The giant sequoia, which became a tourist attraction way back in 1880 when the trunk was hollowed out so that hikers — and for several decades, cars — could pass underneath, fell down during a storm on Sunday. While the ancient tree may be gone, it will live forever in the 1994 arcade game Cruis'n USA, which features the tree as part of a dope-ass Cali racetrack.
The Calaveras Big Trees Association, a nonprofit that keeps an eye on the Calaveras Big Trees State Park's namesake, said in a Facebook post that a storm over the weekend was "just too much for it." Giant sequoias have a very shallow root system, and the Pioneer Cabin Tree's elderly roots just couldn't hold up as the trail washed out due to heavy rains.
Joan Allday, a volunteer at the park, told the SF Gate that the old tree was very brittle and "barely alive," noting that it only had one brand at the top.
If you never made it out to the Pioneer Cabin tree while it was still standing, all you need to do is find a way to access the 23-year-old racing game Cruis'n USA, and you'll feel like you're there. Expert arborists might notice a few small inaccuracies in the way the famed tree is depicted in the game. For one, the real tunnel was only wide enough for a single car to drive under, whereas in Cruis'n USA, at least three cars could speed through the arch side-by-side in the midst of a furious, totally sick race. Also, the "Redwood Forest" race course passes underneath several tunnel trees. In reality, there is only one tunnel tree, and now it's dead.
Pay tribute to the mighty, fallen Pioneer Cabin Tree by watching this YouTube video that somebody put up of themselves getting second place in a Cruis'n USA race. Nature is so beautiful.