OG 'Ghost in the Shell' Returning to Theaters Next Month
The Major returns in this major re-release of the 1995 movie.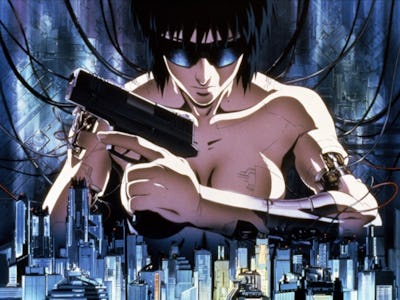 Elite Gamer
We've already seen in the past that the upcoming live-action Ghost in the Shell film will pay homage to and honor the original, but now, Funimation has announced that the 1995 film that kicked things off is returning to the big screen on February 7 and 8, 2017. This comes not long before the feature film starring Scarlett Johansson also hits theaters on March 31, 2017.
The 1995 animated feature, based on the manga that began in 1989, follows the investigations of Major Motoko Kusanagi, a cyborg working for the public-security agency known as Section 9. The Major's brain was completely cyberized following a childhood trauma, and she's forced to use a pretty badass full-body prosthesis to function, which basically makes her a crimefighting superhero of sorts — this clearly raises all sorts of existential problems in addition to the cybersecurity issues. This is where Ghost in the Shell always dabbles into the realm of philosophical quandaries. The Major and her team spend the movie hunting down an elite hacker known as the Puppet Master, and they ultimately are exposed to a ton of political intrigue, dark conspiracies, and existential crises.
Bringing the beloved classic anime film back to theaters for a limited time is a great way to inspire long-time fans of the series just before the release of a live-action take on the story.
So far, neither the Puppet Master nor the other prominently featured hacker, the Laughing Man, have been specifically spotted in trailers, but it's still early. Still, the description for the new movies says, "A cyborg policewoman attempts to bring down a nefarious computer hacker," which is not far off from what the 1995 animated original entailed: "A cyborg policewoman and her partner hunt a mysterious and powerful hacker called the Puppet Master."
Whether or not the new film accurately adapts the original film, the 1995 big screen re-release will be a great refresher for the franchise, and Ghost in the Shell — out March 31 — will no doubt dissect the Major's sense of self, especially with all the potential for biohacking and moral grey areas.
Check out what might be one of your last chances ever to see Ghost in the Shell (1995) in theaters on February 7 and 8.