Hold on to Your Butts, This Binary Star Is About to Explode
by Kastalia Medrano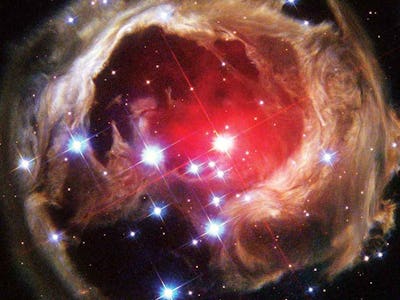 Space Telescope Science Institute
A model for predicting exactly when a binary star will merge and explode has a literal one-in-a-million chance of being accurate — it's never been done before. But Calvin College professor Larry Molnar and his colleagues created one regardless, and it sure looks accurate so far. And if he's right, the sky will literally get brighter.
A binary star is actually the term for two stars which orbit one another — so close they basically share an atmosphere. We generally think they must eventually fall into each other, merge, and explode, though no one can say they must do so with certainty. Molnar has been studying the binary star KIC 9832227 since 2013, and believes it will explode in 2022, give or take perhaps a year. He presented the research Friday at the 229th American Astronomical Science meeting in Grapevine, Texas.
"This is not a model that has many degrees of freedom," Molnar said. "It either fits or it doesn't, and it did."
Molnar has been drawing on data from the explosion of red nova star V1309 in 2008 — a "Rosetta Stone" of sorts for predicting future similar explosions before they happen. He's been able to observe that the times of the binary star's eclipses are increasing in rate.
"The project is significant not only because of the scientific results, but also because it is likely to capture the imagination of people on the street," said Matt Walhout, dean for research and scholarship at Calvin College, in an AAS press release. "If the prediction is correct, then for the first time in history, parents will be able to point to a dark spot in the sky and say, 'Watch, kids, there's a star hiding in there, but soon it's going to light up.'"
Big telescopes like Chile's Atacama Large Millimeter Array (ALMA) get most of the attention — not unjustly — but it's small telescopes that provide the advantage in scenarios like this one. From the Calvin College observatory in New Mexico, Molnar et al will spend the next year observing KIC 9832227 and parsing the data to see if they can identify binary stars dying in real time.
If this event is anything like the 2008 explosion, it'll take about six months to rise to its full brightness — 10,000 times greater than the brightness of the original. When it comes to space phenomena, it can sometimes be hard to tell what big numbers are actually as impressive as they sound and which are not actually big at all relative to, you know, the scale of the universe. This is the former. It will mean a noticeable change in the brightness of the night sky.
"You won't need a telescope in 2023 to tell me whether I was wrong or I was right," Molnar said. "When this thing occurs, if it occurs, we will not miss it."