The Most Exciting Car Technologies From CES 2017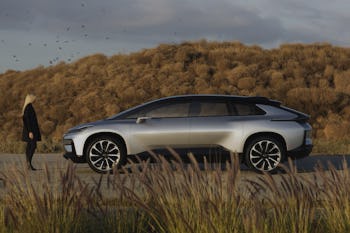 Faraday Future
CES has traditionally been reserved for smart home technologies with questionable applications, laptops that fold in weird ways, and self-tracking gadgets designed to make consumers feel horrible about themselves. But in Las Vegas this week, the annual tech show became a showcase of groundbreaking innovations in car technology. What about a car you can see through? What about a center console you interact with by waving your hands? Engineers were answering unexpected questions in unexpected ways.
Here are the five most impressive new answers they came up with.
World's Fastest-Accelerating Electric Car
Faraday Future, the troubled electric car maker that's positioning itself as the high-end answer to Tesla, promised to "unveil the future" at CES. The press was skeptical, but the company passed the test with flying colors, if its first production vehicle holds up to the company's claims.
The FF 91 is an unbelievable slice of futuristic tech. The company claims it's capable of achieving 0-60mph in a staggering 2.39 seconds, which would make it the world's fastest-accelerating electric car in production if true. It's also capable of parking itself, with an on-stage demonstration of its capabilities.
Holographic Consoles
BMW's HoloActive Touch is all about gesture controls in the center console. A flat panel projects buttons for controlling the main dashboard screen, so to change the music displayed, a user can press the control by their leg rather than reaching forward.
But you don't actually touch the panel itself. A camera behind the panel registers the location of the finger, so all a user has to do is reach towards it rather than press down. To simulate the feeling of pressing a button, the display pushes air to your finger.
All of this was on display in a car never designed for moving, and BMW is remaining tight-lipped about when this may surface in a production vehicle. However, the company is aiming the technology for a future driverless car.
See-Through Cars
The Valeo XtraVue is something rather special. It's a camera system installed to combat blind spots when driving. When driving along a road, a driver's car can link up with the car in front and give the driver a view of what their car can see. It's perfect for seeing through the car and working out whether it's safe to pass or not.
Super Fast Battery Charging
Faraday Future's FF 91 is not only fast on the road. The vehicle packs the world's highest energy density battery, achieving a range of over 378 miles from a 130 kWh battery. That battery is also capable of charging at 500 miles worth of charge per hour, which the company claims is also the fastest charging speed.
This is a big deal for electric car tech. Right now, cars that visit a gas station fill up with fuel in a matter of seconds. The hours of charging involved in an electric car could inhibit further growth, and indeed "range anxiety," the fear that the car will run out of power in an inconvenient location, is a concern for curious customers. Cars that can charge up in a matter of minutes, rather than hours, are a big step towards mass consumer adoption.
Those self-driving cars that are going to be whizzing around the roads soon? They're going to have a lot of data to crunch, but one of the under-discussed areas of the driverless revolution is the in-car computer. Nvidia has partnered up with German automotive supplier ZF to provide the DRIVE PX2, an artificial intelligence computing platform capable of crunching big numbers on the fly.
The resultant ZF ProAI can take input from the wide variety of sources in a self-driving car, work out what to do next, and even communicate with other cars and their surroundings to work out how to move around the road. A driverless car's going to need to make split-second decisions, and the more computing power at its fingertips the better.