Former Tesla Partner Mobileye Creates an Autonomous Car System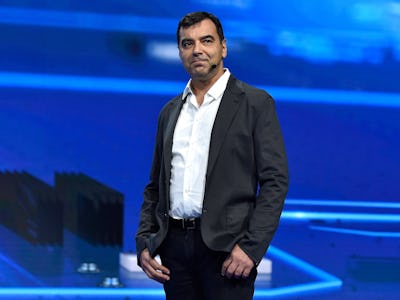 Getty Images / David Becker
Last summer, Mobileye parted ways with Tesla Motors, taking their autonomous car technology elsewhere — and now it finally revealed what it's been cooking up since then.
On Thursday at the 2017 Consumer Electronics Show in Las Vegas, Mobileye and Delphi, a British automotive parts company, showcased the Centralized Sensing Localization and Planning (CSLP) automated driving system, which could be a major competitor to Tesla's Autopilot system. The two companies demonstrated the technology on a 6.3-mile drive, showing off its ability to sense nearby vehicles and pedestrians. And it could be ready for production by 2019.
Mobileye, which stopped developing technology for Tesla last summer has reached level 3 autonomy for its system, which means the car can drive itself, but it can hand-off control to the driver under certain traffic or environmental conditions. Right now, it works on highways only.
What makes this system different from other autonomous cars is that it gives drivers a 10-second grace period for the driver to take over the wheel. Currently, there are cars at level 2 autonomy, which means the driver must be prepared to take over at any time instantaneously.
"I would say it's the most sophisticated and ambitious driving assist program coming out in 2017 and to date," said Amnon Shashua, co-founder, chairman and CTO of Mobileye.
Mobileye's system uses a technology called Road Experience Management to map out the roads ahead. When the car goes out for a drive, it will find landmarks like signs and traffic lights. It sends this information to a cloud, and the back end software pieces everything together, creating a map. So if one REM-vehicle drives down a street, its cameras and sensors will memorize that route's landmarks — stoplights, potholes, street signs — and upload them to a crowd-sourced map for other REM vehicles that follow.
"Since maps are critical to achieve autonomous driving, one has to find a way to do this cost-free, and crowdsourcing is a very neat way to do it," Shashua said.
Shashua says Mobileye needs to continue working on driving policy, which means mapping out the transition between sensing the surroundings and taking action. This can be a challenge because it requires robots to adopt human-like negotiation skills and to guarantee safety.
For example, when you make a double lane merge, there are no concrete rules. You have to plan many seconds ahead, and there isn't a clear right of way. You might have to communicate with another driver with the move of your hand. This is a form of human negotiation that machines would have to learn, which is challenging because humans often communicate in more complex ways.
"Our negotiation is not negotiation by talking to each other," Shashua said. "Our negotiation is by motion…These negotiations are kind of complicated."
Although robots still need to learn how to communicate like humans, Shashua said CSLP systems that will be ready for production in 2019 will be able to plan like a human and determine the best path forward.