Dalek Painter Consulted for Radiohead's Latest Album Cover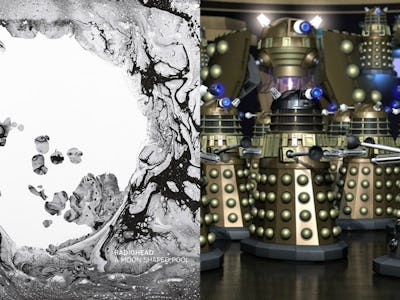 Radiohead/FanPop
There's a real possibility that the Doctor drove a Dalek so far away from its "ex-term-in-ate"ing ways that the mutant cyborg actually became an artist. Maybe this wayward Dalek thought it was better to turn its plunger and death-ray into paintbrushes than go against the Doctor one more time.
Stanley Donwood, a creative collaborator with international rock sensation Radiohead, revealed in a recent interview that Radiohead originally wanted a Dalek from Doctor Who to create the cover art for its latest album, A Moon Shaped Pool, which was released in May 2016.
"I had this idea of a painting Dalek that instead of exterminating people would squirt paint," Donwood said. "But unfortunately our technical skills weren't up to the job of constructing a Dalek."
So, sadly, a Dalek's dreams were dashed before they could even take off. Instead, Radiohead and Donwood went with a trippy black-and-white brainchild of the elements. They splattered paint on white canvas, put the canvas outside, and then waited for nature to take its course.
What resulted was A Moon Shaped Pool's elemental cover art. The band is now confirmed as headlining at 2017's Coachella, so maybe not going with the Dalek art turned out to be a good thing.
Evidence for a changed Dalek comes in the form of Rusty, the Doctor and Clara's venture into the mind of a "moral Dalek." If things had worked out for Rusty in "Into the Dalek," he might have ended up being a fantastic artist. He certainly had the tortured temperament so stereotypical of artists.
But, alas, neither Rusty nor another Dalek was chosen to be the face of Radiohead's latest project. Another time, maybe.