Deadpool's Creator is Starting His Own Cinematic Universe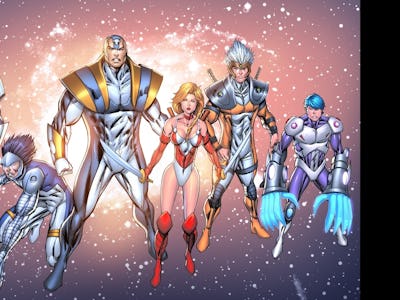 Brigade Returns/Kickstarter
After the monumental success of last year's Deadpool, co-creator of Marvel's snarky assassin Rob Liefeld is bringing his own superhero universe to the big screen. The Extreme Universe, which originated with Image Comics, will be supported through a seven-figure deal with Fundamental Films and producer Akiva Goldsman (The Dark Tower).
Liefeld's Extreme universe — which began with Youngblood #1 in April 1992 — encompasses over a hundred characters including Kaboom, Cybrid, Nitrogen, Lethal, and the superhero teams Brigade and Bloodstrike. Youngblood, the formative team that began Extreme, as well as Superman analog Supreme (noted for an acclaimed Alan Moore series in 1997) are not included in the deal; Reliance Entertainment acquired the rights to Youngblood in 2009.
The superheroes of Extreme pretty much live up to that name, sharing similar traits to Deadpool and other exaggerated anti-heroes that dominated '90s comics: Violent, snarky, and loaded with guns and pouches. When Liefeld left Image in 1996 to form Awesome Entertainment, he took the characters with him. Awesome folded in 2000, and recently Liefeld has attempted revivals of Extreme books like Brigade via Kickstarter.
No formal projects were announced, let alone any directors or stars attached. But because of Liefeld's deep association with Deadpool and his role as executive producer, it's more than likely the Extreme films will be allowed to pursue a similar, "edgy" tone that the original comics were recognized for.