China Loves Its New Giant Donald Trump Rooster Statue
Everyone's going to want a selfie with this chicken.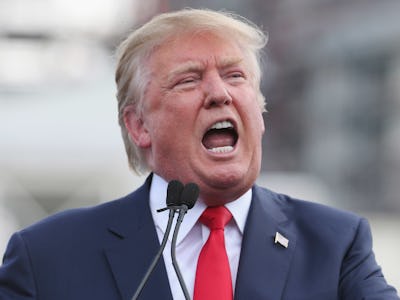 Getty Images / Chip Somodevilla
Donald Trump's supporters love the word cuck, but apparently the Chinese see the Donald as more of a cock. A newly erected statue of a giant rooster outside a shopping center in the northern Chinese city of Taiyuan looks strikingly similar to the United States president-elect. While it was originally meant to celebrate the upcoming Year of the Rooster in the Chinese lunar calendar, people just can't get over its resemblance to Trump. Looks like China's having a good time laughing at the current state of American politics.
Complete with angry, flapping arms; a dollop-shaped bushel of hair; and a puffed-up scowl, the only things off about the landmark are its lack of a Cheeto-orange complexion, and the fact that it has more hair than Trump has had in decades. State-run tabloid has called the statue a "perfect blend of Chinese and Western cultures."
People have already gone cuckoo for the chicken, posing for selfies with the Trumpified piece of poultry.
The New York Times talked to Casey Latiolais, the Seattle-based artist behind the statue's design. He says that he was contacted for the gig by real estate company Beijing Reliance Commercial Land in November. Latiolais is surprised that the statue ended up being produced on such a grand-scale, but declined to comment on why he made the statue to look so much like Trump.
This isn't the first time that the reality television star turned president-elect has been turned into a piece of work. Earlier this year, strange statues of a naked Trump started popping up in cities all across the United States. And there are plenty of other artists expressing their criticism of the politician through various creative avenues.
China's rooster statue based off the incoming American president comes at an especially volatile time between the two countries. Trump has done plenty to piss off the other country's leaders, including taking a call from the President of Taiwan, and his denial of climate change might strain relations even further.
While tension between a man that will have access to the nuclear codes and another world superpower definitely signals bad news, at least people can usher in the Chinese New Year by taking pics with the big ol' chick. Hopefully that'll keep people distracted enough from the impending doom.