Carrie Fisher Fans Made Her a Star on the Hollywood Walk of Fame
She deserves a real one, but this will do for now.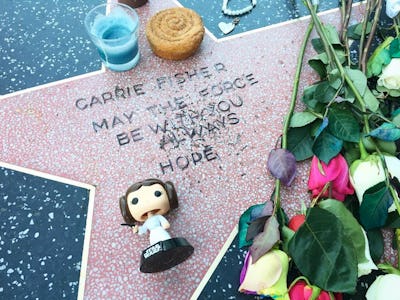 Instagram/@leiabeth33
Carrie Fisher's death on December 27 has had fans tweeting and blogging their love for the actor, author, script writer, and general cultural icon for the past 24 hours. But fans who refashioned a previously empty star on the Hollywood Walk of Fame to honor the late icon are gathering more attention than a single tweet ever could.
Fisher doesn't have an official star on the Walk, but that didn't stop people in Hollywood from making her one. The Associate Press reports that "administrators of the Los Angeles tourist attraction are allowing the tribute temporarily to give fans a place to mourn." "May the Force always be with you" — a tribute to her time as Leia Organa in the Star Wars franchise — is spelled out in paste-on letters under Fisher's name, and the previously blank star has been surrounded by flowers and candles. This gift from fans to Fisher and her memory is very clearly as much a tribute to Fisher as it is a place for her fans to grieve her death.
While Fisher certainly deserves her own star on the Walk of Fame, a star couldn't ever begin to describe the person lost when the world seems to need her most. Fisher's wit, charm, and "fuck it" attitude got her through challenges that others have often been lost to, and she went on to inspire a generation.