The Best Handheld Games of 2016 
The Nintendo 3DS and Sony PS Vita had a pretty good year.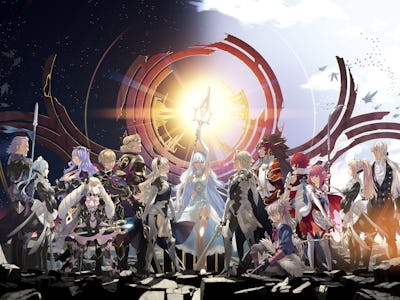 Nintendo
2016 was a great year for handheld gaming thanks to the release of many highly anticipated titles kicking off the year. There were also a surprising few Indie projects like Severed and Darkest Dungeon that truly shined in their handheld format, amidst major releases like Pokémon and Fire Emblem continued to deliver great experiences for both newcomers and returning veterans. The important part though, is that no matter what type of experience you were looking for on your handheld, 2016 had you covered.
Here's a look at the best handheld titles of the year.
10. Bravely Second: End Layer (3DS)
Released in North America this year, Bravely Second: End Layer is the long-awaited sequel to 2012's Bravely Default centered on the same battle system introduced in the original. This RPG follows the story of Bravely Default two or so years after it ends, but doesn't do too much to move the story forward or keep the dialogue interesting if humor isn't really your thing. That said, it shares the same phenomenal turn-based combat system of the original, meaning that plenty of great battles await you and your party around every corner.
9. Lara Croft GO (PS Vita)
Much like Hitman GO, Lara Croft GO was a title first released on iOS and Android devices in 2015, before being later ported over to other platforms in 2016. Levels here follow the same basic design, with points connected by lines that you must navigate turn by turn to reach the end of each level. But instead of just being flat Lara Croft GO introduced vertical movement to the mix while departing from the board game-like visual style of Hitman GO with more colors and set pieces added throughout each level.
8. Severed (PS Vita & 3DS)
Severed is one of the most interesting titles to be released on handhelds, namely due to the game's original focus on touchscreen controls via mobile devices. Originally it was meant to be a mobile-only project, but as time went on and development kept being delayed, DrinkBox Studios ended up bringing it to the PS Vita and later to the 3DS. Both handhelds highlight an interesting take on the traditional formula were used to seeing on handheld devices thanks to a first-person perspective and gorgeous art style. It may not be an experience for every player, but it's one worth considering if you enjoy out-of-the-box concepts yourself.
7. Axiom Verge (PS Vita)
This 2D side-scrolling action adventure title is one which embodies the best of both Metroid and Castlevania into a new story following Trace, a scientist who suddenly finds himself in the alien world of Sudra. Much like the games it embodies, Axiom Verge is filled with tight controls that allow you to master the gameplay, excellent boss battles that test your abilities, and interesting level design complete with dozens of secrets for you to discover.
6. Hitman GO (PS Vita)
Hitman GO is a much older title, originally released for iOS and Android devices back in 2014. But, as of 2016, Hitman GO is now available in a "Definitive Edition" package for PlayStation 4, PlayStation Vita, and PC. Created by Square Enix Montreal, Hitman GO is a simple but elegantly crafted puzzle game that captures all the famous Hitman moments such as hiding, assassinations, and bonus objectives with a board game-like visual aesthetic.
5. Pokémon Red, Blue and Yellow (3DS)
Even though Pokémon Red, Pokémon Blue, and Pokémon Yellow weren't on a physical cartridge for their rerelease on the Nintendo 3DS, they still stand as some of the best handheld experiences after all these years. Released in February to celebrate Pokémon's 20th anniversary, each title retains the classic pixelated look of the original while adding the ability to trade and battle Pokémon wirelessly thanks to the 3DS.
4. Darkest Dungeon (PS Vita)
If you appreciate the classic approach to dungeon crawling or a game focused entirely on turn-based combat and party management, Darkest Dungeon is a title worth looking at. Originally released in January on PC following its early access program, Darkest Dungeon starts as the player inherits an estate inhabited and surrounded by monsters, which you'll spend the entire game working to clean out by assembling parties of heroes to venture into danger. It's daunting, difficult, and rewarding — just like Dark Souls, but with a friendlier gameplay loop.
3. Fire Emblem Fates: Birthright (3DS)
Following the success of its predecessor, Fire Emblem Fates introduces an entirely new chapter to the franchise with two separate versions: Fire Emblem Fates: Birthright and Fire Emblem Fates: Conquest. Birthright is an experience designed for newcomers or casual players, while Conquest is an experience aimed at veterans who are looking for a challenge. No matter what version you choose though, you'll be introduced to a world at war that you'll either defend or conquer (depending on your version choice). Both versions are filled with grueling tactical combat and a phenomenal story wrapped up in an excellent strategy RPG package.
2. Monster Hunter Generations (3DS)
There's something about the tried-and-true Monster Hunter formula that keeps us coming back with each new release, and this year was no different when it came to Monster Hunter Generations. While it may be intimidating to dive into if you've never played a title from the franchise before, Generations does an excellent job of introducing new players to the game while adding plenty of new features for returning veterans. Just remember, it's an experience best played cooperatively, so bring along a few friends!
1. Pokémon Sun and Pokémon Moon (3DS)
If you haven't picked up a copy of Pokémon Sun or Pokémon Moon yet, you're missing one of the best Pokémon games we've seen in the franchise thus far. With a completely redesigned approach to the main story that doesn't rely on gyms, an exotic new location, and plenty of new Pokémon to add to your collection — the newest versions are easily some of the best handheld titles to hit the Nintendo 3DS in the last few years.