Dan Harmon Will Spend 2017 Fighting With Dan Harmon
The co-creator of 'Rick and Morty' has a ton of weird shit up his sleeve.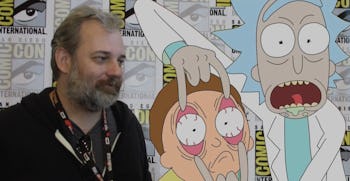 Nerd Repository
No one in media knows how to hate himself as hilariously as Dan Harmon does. He has amassed a passionate fanbase in recent years, one that follows him through different storytelling mediums and craves his specific angrily, self-deprecating voice. Harmon writes tightly wound jokes that don't comment on pop culture so much as emphasize the meaninglessness of it all. For Harmon, there's comedy in nihilism, and that take-no-prisoners viewpoint will feel especially relevant and in 2017, especially to a nation hoping for escapism while looking for new creators to identify with.
Harmon helmed two of the most inventive sitcoms of the last decade, Community and Rick and Morty, but he's still lingering at the cusp of becoming a household name. Great Minds with Dan Harmon, his short show on HISTORY's Night Class programming block, sold Harmon as a puttering leading man, but although the show was as cutting and smart as his other projects, it didn't see the same success. His comedy podcast, Harmontown, continued in 2016, gaining traction again amongst genre fans, and HarmonQuest, his animated 'Dungeons and Dragons' adventure, satisfies the same fans who adore his other stoner-friendly fare.
The schlubby, beleaguered "Dan Harmon" character he presents in his work, whether playing the character himself in Great Minds, or infusing original figures like Rick or Community's Jeff with these traits, will be especially engaging for viewers next year. Across his projects, Harmon creates emotionally resonant TV by showing people an ugly side of themselves and giving them a way to reckon with it through humor. It's no coincidence that most of his protagonists are at best, engaging in self-destructive behaviors, and at worst suicidal.
Hating himself will make Harmon a novel storyteller in 2017 because, by turning his anger inward, he'll help viewers feel empathy for both the worst of us, and the worst within us. Even if we're not meant to adore Harmon's Rick Sanchez and excuse him of his selfishness, he's certainly complex enough to fascinate Rick and Morty's wide audience, and is unpredictable in a way that suggests all of us are capable of good, deep down.
Next year, Harmon will launch a series on YouTube Red co-created with the Game Grumps, Arin "Egoraptor" Hanson and Dan Avidan, and Art Prison, a live-action program on Adult Swim. Both will tell stories of misfits, whether they be esports players or prisoners in a facility focused rehabilitation through the performing arts, providing ripe fodder for Harmon's caustic schtick to shine.
His contentious personality — which has gotten him in trouble — and history will make him a renegade force in a mediasphere that will likely avoid the more difficult aspects of creating art under a Trump administration. What's the easy joke to make about President-elect Trump? We've heard them all. It's in the more uncomfortable, jagged corner of comedy that Dan Harmon usually plants himself, and in exposing the worst of himself, he helps his audience reckon with the same in themselves. Creators like Harmon who are comfortable with being chastised as often as they're regaled will be invaluable to us all in 2017 that guarantees only thing: That we'll be forced to reckon with our choices sooner rather than later. Thanks to Harmon, we can maybe envision a future in which we actually accomplish something, in spite of being our own worst enemy.