China's Alipay App is 'Pokemon GO' for Catching Money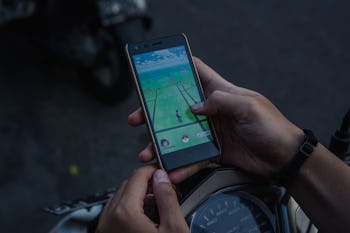 Getty Images / Ulet Ifansasti
This is the sort of game that's easy to get behind: Alipay, China's biggest mobile payments app with nearly half a billion users, has released a festive little mini game that scatters red envelopes containing money (known as hongbao) around the virtual streets. Users are expected to use an augmented reality view to locate the packages in the real world, with the reward deposited into the user's Alipay account.
If it sounds a bit like Pokémon GO, you're not wrong. Niantic's creature catching game popularized looking for virtual items by exploring the real world, but Alipay's app differs as it involves users finding people in the real world to scan their device and claim the reward. Unfortunately, unlike Alipay's game, you'll probably never catch a real-life Pikachu.
It's all part of Chinese New Year, set to take place January 28. The hongbao envelopes are a traditional part of celebrations, with their distinctive red design symbolizing good luck. The amount contained inside tends to be an even number, and gift givers tend to avoid the number four as it sounds similar to the word for death.
One writer that went hands-on with the feature explored their local area, receiving clues to find a bearby user. The app lists the owner of a nearby envelope, and a clue for how to find it. The envelope he found belonged to a shop owner, where he scanned the smartphone and received a few cents.
It may have launched in time for new year, but that doesn't mean the game will disappear after that date. Alipay claims the game will become a permanent fixture in the app.