'Rogue One' Continues to Blast Away the Box Office Competition
The film is set to earn an estimated $327 million over the holidays.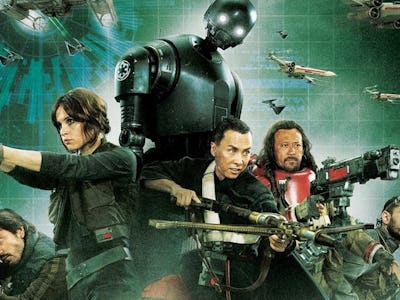 Lucasfilms
The Force continues to be strong with Rogue One: A Star Wars Story, as it remains at the top of the box office during the holidays despite stiff competition from several new releases. The latest installment in the Star Wars saga raked in $15 million on Christmas Eve with projections exceeding $120 million over a six-day period.
Rogue One faced some stiff competition from Sony's sci-fi adventure, Passengers — starring Jennifer Lawrence and Chris Pratt — and Fox's Assassins Creed, which featured Michael Fassbender. The two high-profile live-action films — which brought in $22 million each — showed promise but ultimately proved to be no match at the box office for the Rebellion.
The film — which takes place before the events of the first Star Wars film, A New Hope — made history as it sold out multiplexes around the country on opening weekend, raking in enough tickets sales to earn it the second largest December opening ever.
Rogue One is the first standalone film in the Star Wars franchise, and its massive ticket sales bodes well for future standalone films like the upcoming story featuring a young Han Solo. Directed by Gareth Edwards, the film — which stars Felicity Jones, Riz Ahmed, Alan Tudyk, Diego Luna, Ben Mendelsohn, Donnie Yen, Mads Mikkelsen, Jiang Wen, Forest Whitaker — is projected to finish out the holiday week on Monday with a whopping $327 million.
These numbers solidify Rogue One's place as one of the top earners of the year, just edging out Suicide Squad as the eighth highest grossing film of the year. It's most impressive … for Rebel scum.
As impressive as the box office numbers are, the film still falls short of the 2015 blockbuster hit Star Wars Episode VII: The Force Awakens, which grossed an epic $571 million in its first two weeks.