Rogue One Smashes the Galactic Box Office, Earning $155 Million 
The motley band of Rebels snagged our hearts and the second biggest opening of the year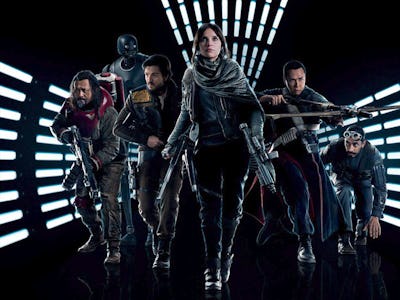 LucasFilms
Fans flocked to the theaters in full force this weekend as the first standalone film in the Star Wars franchise premiered. Rogue One: A Star Wars Story sold out multiplexes around the country, raking in enough tickets sales to earn it the second largest December opening in history. But that's not all, the film — which takes place before the events of the first Star Wars film, A New Hope — opened with an impressive $155 million, making it the second largest opening of the year and one of the top debuts in history.
The Rebellion has succeeded in more ways than one: the film — which was directed by Gareth Edwards and stars Felicity Jones, Riz Ahmed, Alan Tudyk, Diego Luna, Ben Mendelsohn, Donnie Yen, Mads Mikkelsen, Jiang Wen, Forest Whitaker — is also an international success, earning over $290.5 million worldwide. Ranked No. 1 around the world, the film has yet to open in China and South Korea.
Mid-December box office opening are always tricky as folks are typically caught up in the bustle of the holiday season. However, that all changed in 2015 when a different story in the iconic space saga, The Force Awakens launched onto the big screen with the number one opening of all time at just over $247.9 million in North America alone and $529 million worldwide. Previous top earners included Avatar, which garnered $85 million in its December 2009 debut.
Rogue One was released on more than 400 IMAX screens, raking in $29.2 million globally and $19 million in domestic IMAX dollars. In addition, 550 premium large format screens (which includes 3D), garnered an impressive $17.9 million of the total domestic tickets sales — a whopping 38 percent of all tickets sold.
The movie's opening numbers are a major victory for both Disney and Lucasfilm, who tried to downplay the movie's expectations. Critics and fans alike have embraced the gritty war drama, proving to studio executives that the franchise can succeed sans Skywalkers.
The film, which cost $200 million to make, is positioned to do well throughout the holidays and its success offers hope not only for the rebellion, but for the success of future Star Wars spin-offs. Currently the studio is working on a chronicle of Han Solo's early years that will star Alden Ehrenreich as the young smuggler.