Peep These Bloody Gorgeous New Hi-Res Photos of 'Deadpool'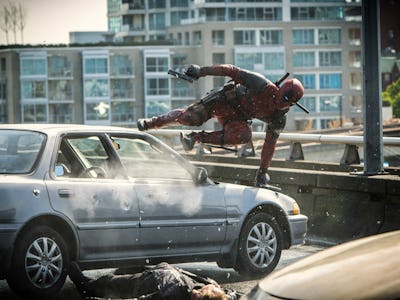 Joe Lederer Photography
Marvel's Merc with the Mouth, Deadpool, got the big screen adaption his legions of fans yearned for since X-Men Origins: Wolverine fucked his shit up. Deadpool, which starred Ryan Reynolds, Ed Skrein, T.J. Miller, Morena Baccarin, and directed by Tim Miller, has been available on Blu-ray and DVD for a few months now but its set photographer just uploaded a whopping 61 gorgeous images taken during the film's production in 2015. Who knew Deadpool could look this bloody beautiful?
Joe Lederer is a renowned movie photographer with credits in Rise of the Planet of the Apes, Chronicles of Riddick, and Mission: Impossible — Ghost Protocol. This week, Lederer posted gorgeous images he took from the set of Deadpool in an eclectic gallery that shows both the characters as well as behind-the-scenes. Some of the spontaneous candids of the cast between takes are just as gorgeous as the ones with Deadpool and Negasonic Teenage Warhead in full costume. I don't think I've seen Stan Lee this happy before.
Some are also photoshopped, tinted, and angled in a way that don't make Deadpool resemble the lurid, R-rated superhero romp that grossed more than $700 million worldwide in the cold dead month of February.
Check out some of the images below. The rest you can peep on Lederer's official website. First, here's a dope new angle from one of the film's many publicity stills.
Next, a sick curb stomp against a henchman from the film's violent opening scene in the highway.
Below, a dramatic shot of lead star Ryan Reynolds, when Wade Wilson learns he has terminal cancer.
Wade Wilson (Reynolds) and Vanessa (Morena Baccarin) in happier times, on Christmas!
Below, Wade and his roommate Blind Al (Leslie Uggams) share a quiet moment.
Below, MMA star Gina Carano (Angel Dust), left, chokes out Colossus out of frame. On the right, Brianna Hildebrand (Negasonic Teenage Warhead) shoots on a rainy day.
And finally, a candid of Stan Lee, who didn't create Deadpool but whom fans love to see in cameo appearances anyway.
Deadpool is available now on Blu-ray and DVD.