The 8 Hottest MCs to Watch in 2017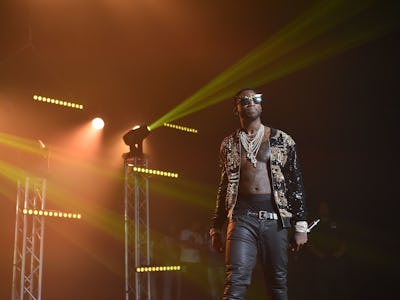 Getty Images / Paras Griffin
2016 was an excellent year for hip-hop music. Several artists dropped instant classic albums, mixtapes, and songs. Despite the critiques from the old heads in the rap game, we witnessed the rise of new age artists who are trying to transcend the rap label, like Lil Yachty and Lil Uzi Vert. Kid Cudi and J. Cole returned to drop two of the best albums of the year. Gucci Mane thankfully got out of jail and has been making music ever since his release. Kanye West put out The Life of Pablo and subsequently preceded to go into a downward spiral that we all pray he recovers from soon. And two kids remixed cult classic, "Knuck if You Buck," and now everybody is jujuing on the beat. It was without a doubt, a very interesting year and 2017 is bound to bring even more surprises.
Some artists already have new music on the way that people are anticipating. Others are slowly awaiting their turn to finally blow up and reach mainstream status. However, we should expect a myriad of new music that will surely satiate your musical palette. Whatever the type of rap you enjoy listening to, here are ten MCs to definitely look out for in the coming year.
Drake
Say what you will about Toronto's very own, but Drake works extremely hard. You can't listen to the radio without hearing one of his many songs. His album, More Life, was originally slated to be released in 2016, but has been pushed back to 2017. We have already heard a couple of songs that will be on the album, "Fake Love" and "Sneakin," featuring 21 Savage. With Drake's popularity, his album will without a doubt be one of the top albums of 2017. Rumors have also been thrown around about potential collaboration albums with Taylor Swift and Kanye West. Drake is on par to have another big year.
Migos
Their song, "Bad and Boujee," has been tearing up the charts and it is currently at #26 on the Billboard Hot 100. A video of them performing the song in Nigeria went viral. Quavo and Offset have been featured on numerous songs this year. The trio is supposedly dropping their new album, "Culture" in the coming year. The founders of the dabbing craze are going to kill 2017.
Noname
If you are a fan of Chance the Rapper's music, then you have definitely heard about Noname. She first appeared on Chance's Acid Rap mixtape on the song, "Lost." She was featured again on "Finish Line/Drown" on the critically acclaimed "Coloring Book." But, she is not simply famous because of her amazing verses on Chance's records. She released her first mixtape, "Telefone, on July 31 to rave reviews. Sadly, she said that "Telefone" might be her first and last mixtape. We hope not because her sound is so different that we need a voice like hers in rap music.
Nav
Despite all of his songs on SoundCloud amazingly having well over one million plays, Nav still remains unknown to a lot of people. The Toronto rapper/singer has a sound that follows the formula of a lot of singers nowadays, combining vocals over trap beats to create a sound that is becoming less unique as time goes on. But, Nav's music is extremely popular and he even has a track with super producer, Metro Boomin. He was featured on "Beibs in the Trap" off of Travis Scott's Birds in the Trap Sing McKnight. His most popular song on SoundCloud has 22.2 million views. It is only a matter of time before Nav enters the spotlight.
Dave East
It was a busy 2016 for the Harlem rapper, Dave East. He released his highly anticipated mixtape, Kairi Chanel and signed a lucrative deal with Def Jam all while performing multiple sold out shows. He has received backing from some of the greatest names in the industry including, Cam'ron and Beanie Sigel. He revealed that Nas is an executive producer on his first album that he will be releasing as a Def Jam artist. Dave East is purely hip-hop and a person that you should definitely keep your eyes on.
Gucci Mane
Following his release from prison, Gucci has been dropping record after record and it does not seem as if he will be slowing down any time soon. He is healthy, feeling better on life, and is more positive than ever before. He released Woptober in October and The Return of East Atlanta Santa in December. Gucci Mane's discography is long and he has put on some of the hottest sounds coming out of Atlanta, including Young Thug. Expect to hear more music from Gucci in the coming year.
Big Sean
One of the most underrated rappers in the game, Big Sean, is going to release some heat in 2017. He revealed that he and his musical partner and bae, Jhene Aiko, will be dropping another "Twenty88" album. Big Sean will also be releasing a solo album in the coming year. With the success of his singles, "No More Interviews" and the twerking anthem, "Bounce Back," Big Sean will deliver as he always seems to do every time he drops a new album.
Young M.A.
You must be living under a rock if you have not heard the track "Ooouuu" yet. Since the song blew up, Young M.A.'s fame has skyrocketed, not only because she is a proud lesbian, but because she has bars. If "Ooouuu" is not enough, then you can listen to her songs, "Summer Story", or the almost 7 seven minute track, "EAT." By the end, you will definitely understand why Young M.A. is going to kill the rap game in 2017 with real bars and real rap music.