J.K. Rowling Just Confirmed She's Writing More Books
In addition to her Cormoran Strike series, J.K. Rowling is hard at work on a mysterious new novel.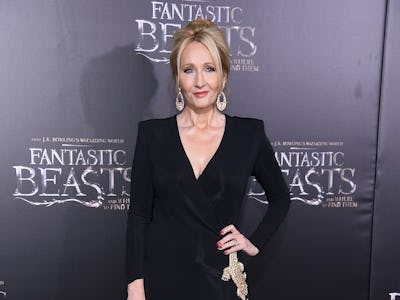 Getty Images / Michael Loccisano
The year 2016 has been exceptionally dark in the Muggle world, but between the play Harry Potter and the Cursed Child and the film Fantastic Beasts and Where to Find Them, it's been a busy year for the wizarding world. And a new announcement from J.K. Rowling could pave the way for even more in 2017. While chatting with fans on Twitter, Rowling confirmed that she is working on a new novel in addition to the next entry in her crime series under the pseudonym Robert Galbraith.
Rowling has not specified whether this new story will be set in the Harry Potter universe. In all likelihood, it will not be, as she previously said that Harry Potter's story is finished after Cursed Child. She also debunked the possibility of Newt Scamander novels in the same thread. Still, in lieu of Newt, this could mean other distant Potterverse characters are on the table. Teddy Lupin, whose orphaned status mirror's Harry's own, is ripe for his own story. The epic tale of the Marauders, which appeared between the lines in the Potter books and got a tantalizingly 800-word snippet for charity in 2008, has long awaited its own spotlight. Or, Rowling could write about the fascinating Black family, which got an intriguing hint in Fantastic Beasts and Where to Find Them.
Then again, because the world has not taken its Felix Felicis, it's probably a sequel to The Casual Vacancy. Let's hope Rowling is hit by a Cheering Charm this time around. There is no word yet on a release date.