Sensible T-Shirts Dominate New 'Blade Runner 2049' Photos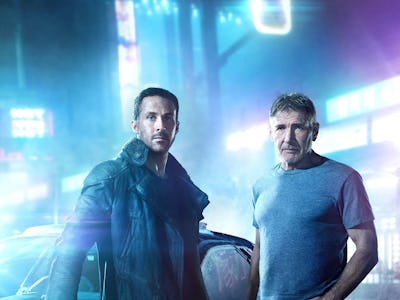 EW/Stephen Vaughan
There's only one very important detail in any of the first-look photos just released for Blade Runner 2049: Where did Rick Deckard get that sensible grey heathered tee?
The photos come courtesy of Entertainment Weekly on the heels of the first synopsis and teaser trailer for the long-awaited sequel to director Ridley Scott's 1982 stone cold classic. It seems the thing that will drive the plot of the follow-up, which takes place in real-time 35 years after the first movie, is where Harrison Ford's former blade runner loner Rick Deckard is.
The teaser remained cryptic, showing Ryan Gosling's current blade runner, Officer K, waltzing cautiously up to a sandy art deco hotel or casino, twinkling a few keys on a grand piano, and facing down the barrel of Deckard's PKD blaster.
Deckard and Officer K seem way chummier in the EW photos, posing in front of one of the franchise's iconic spinners.
Otherwise, Gosling's character, sporting a duster not unlike the one Ford wore in the original, is also see behind the wheel of a spinner with actress Ana de Armas's currently unnamed character riding shotgun.
But the most bizarre thing is just how normal Deckard looks. That's possibly the point — he is in hiding, after all — but it just seems like the wardrobe department just told the notoriously grumpy Ford that he could come to work that day wearing whatever he had on.
Here's hoping we get to see something a bit more resplendent, like that weird checkered shirt and tie combo Deckard wore in the original.
Blade Runner had one of the most iconic and influential aesthetics in modern cinema, and these photos seem to suggest that everyone has just been doing their dystopian future shopping at Uniqlo. Maybe it's the only clothes store around in 2049?
We'll find out when Blade Runner 2049 hits theaters on October 6, 2017.