James Franco Is the Captain of the Covenant in New 'Alien' Movie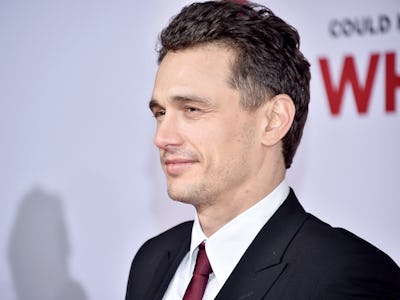 Getty Images / Mike Windle
It looks like renaissance man James Franco is going to add another entry to his resume: starship captain. Franco is allegedly set to star as a character named Branson, the captain of the titular ship in director Ridley Scott's Alien prequel and Prometheus sequel Alien: Covenant.
The news can be patched together from a few different sources. UK site HeyUGuys straight up asked Franco about his involvement while the actor was doing press with actor Bryan Cranston for their comedy Why Him?, but remained cryptic by telling the interviewer, "The news is out, I guess?" Fansite AvPGalaxy also reported Franco's involvement as Branson with a little added bonus: He's supposed to be the husband of lead actress Katherine Waterston's character, Daniels.
Franco will join the already stacked ensemble, which also features Michael Fassbender (returning as the android David and a rival android named Walter), Noomi Rapace, Demián Bichir, Billy Crudup, Amy Seimetz, Jussie Smollett, Carmen Ejogo, and Callie Hernandez.
Its difficult to figure out just where Franco will fit into the story at this point, both because nearly everything about the film is being kept under wraps and there are little discrepancies here and there. Crudup plays a character who's also supposed to be the captain of Covenant as well. Judging by the unfortunate fates of a lot of the captains of the ships in the previous Alien movies, Franco probably won't make it out alive.
We do know that the movie will follow Covenant, a colony ship that stumbles upon a paradise planet only to find the sole inhabitant is the android David, who was last seen rocketing off LV-223 with Rapaces Elizabeth Shaw character. Beyond that, expect to see some acid-blooded xenomorphs picking off the ensemble one by one.
The official Alien social media accounts also just started posting images from the film, first showing a squad of commandos with guns at the ready:
The next is what look to be the cryo-sleep pods from the Covenant:
And the most recent being a particularly xenomorph-esque corridor:
Does this mean a teaser trailer is imminent? For the sake of figuring out just what the hell this movie is about, we hope so.
The movie is scheduled to hit theaters on May 19, 2017.