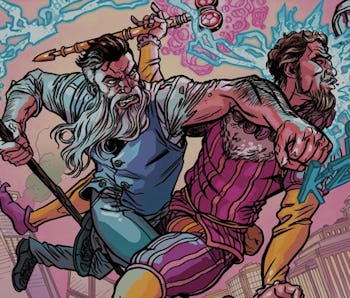 Entertainment
Image's Wacky 'Curse Words' Comic Will Melt Your Brain
It's time for a radical change in comics, and Image's batty, violent, florescent Curse Words story just might be that change.
The comic, from Charles Soule (Superman, Death of Wolverine, Star Wars) with art from Ryan Browne (God Hates Astronauts), will join Image's critically adored comics lineup, including Saga, Bitch Planet, Paper Girls, and The Walking Dead.
Curse Words writer Soule tells Inverse that his comic is "a dark fantasy with some weird humor elements, like perhaps Archer, Rick and Morty, or even Deadpool." We've read the first issue, and Soule isn't wrong. His hero, Wizord, is like a fever dream amalgamation of Gandalf, Rick Sanchez, Bender, and G.O.B. Bluth.
The story follows Wizord, an extremely hip-looking, superpowered wizard who lives in New York City and uses his abilities to please celebrities and rich people. Having been dropped into our reality from Hole World — a place Soule describes as "Middle Earth if Sauron had won" — Wizord attempts to recalibrate his inner, ethical compass. "He was neutral evil back in the Hole World," Soule says, "and now he's doing what he can to shift towards neutral good but theres a lot of chaos to him, as well, on both sides of the axis. Wizord is a complicated dude."
The story seems perfectly calibrated to please fans of self-aware genre fiction, as even the first issue hints at a high-fantasy level of lore, though its protagonist looks increasingly like a Williamsburg hipster as the pages turn. Soule says that's intentional. "We chose New York in part because I live here and I love it, but also because it seemed like the sort of place a wizard would show up, and the sort of place where he would be embraced the way he is in the story."
Curse Words #1 will be available in comic book stores January 17. Curse Words #2 — which boasts this plot summary: "It was sort of an accide … no. It was completely on purpose, and now he has to fix it before everything goes to hell." — will be available February 22.