Will Smith Begging For 'Gotham City Sirens' Deadshot Cameo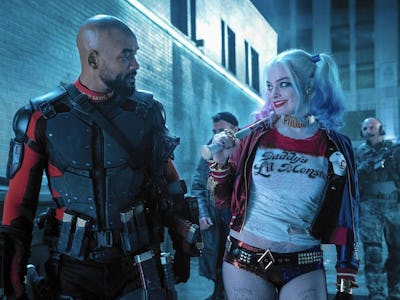 Warner Bros, DC Entertainment
Despite the uneven tone of the final product, the relationship between Will Smith's Deadshot and Margot Robbie's Harley Quinn in 2016's Suicide Squad was a strange highlight. Now Smith is expressing a keen interest in making an appearance in Harley Quinn's upcoming Gotham City Sirens spinoff film, and dammit, he should get it.
Earlier this year, Margot Robbie and Suicide Squad director David Ayer revealed they will be reteaming for the spinoff film Gotham City Sirens, an adaptation of the DC comic of the same name focusing on Harley Quinn, Poison Ivy, and Catwoman as the three women join forces to commit crimes and sometimes save lives.
"I'd definitely love to be in it," Smith told MTV International. "I love Margot Robbie, I would do, like, anything she wants to do." The rapport between the Suicide Squad and Focus co-stars was certainly palpable in Suicide Squad, providing the film's few human moments.
While Deadshot may not have appeared in the original Gotham City Sirens comic series, that probably wouldn't matter too much to the creative team at Sirens if it means getting a chance to revisit Smith's Deadshot for a brief cameo. There's no doubt Deadshot can't fit in this movie about another team of DC villains. Deadshot and Harley Quinn even hooked up in the DC animated film, Assault on Arkham so there's that.
Even if Smith doesn't appear in Robbie's film however, there is still a planned Suicide Squad 2 that will certainly get the gang back together for another mission where bad guys do good things, thereby becoming good guys in the process.
Gotham City Sirens is currently in development.