Kid Cudi's Best Tracks on 'Passion, Pain, & Demon Slayin'
"Too busy making my own waves."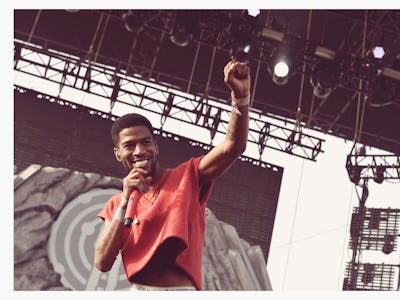 Getty Images / Kevin Winter
After a long year of musical beefs, trauma, and finally checking himself into rehab for his problems, Kid Cudi released his sixth studio album, Passion, Pain & Demon Slayin. The album was originally supposed to be released in September, but was pushed back due to clearance issues and Cudi's personal issues. But, fans of the Ohio artist will be happy to see that Kid Cudi has returned to his classic form. This is the first album since Man on the Moon II: The Legend of Mr. Rager to have an act structure. His voice really shines through and it sounds like the album was recorded right after Man on the Moon II. It feels good to see that Cudi can still be himself musically, but this time, he is clean and working on bettering himself. The album is dope, but there are just some songs on there that standout the most. Here are the top 5 songs off of Kid Cudi's Passion, Pain & Demon Slayin.
5. "Rose Golden" feat. Willow Smith
Providing hope for young people who feel lost has always been in a theme in Kid Cudi's music. This song is another example of that. He sings, "Lost since I was young / Been grooving to my own drum / Ain't too many teachers showed me my potential." This song is a quintessential example of why Kid Cudi is so loved. He is motivator and tries to show others that if he could make it, you could definitely accomplish what you want to accomplish too. Willow Smith's voice sounds amazing on this record. And as another person who society thinks is "weird," she's a perfect fit for the theme.
4. "Baptized in Fire" feat. Travis Scott
It's slowly starting to become apparent that if Cudi and Travis Scott are together on a track, then we should definitely expect some heat (no pun intended). The song, "Through the Late Night" off of Travis Scott's Birds in the Trap Sing McKnight is an excellent blend of two of the pioneering voices of G.O.O.D. Music. Although that song is much faster and more turnt up which is more Travis Scott's style, "Baptized In Fire" is a song that is much more fitting for Cudi's style. But, even with the slower pace, the song still goes extra hard with a deep bassy twang that we hear on a lot of records that Travis is on.
3. "By Design" feat. André Benjamin
One line: "Don't fuck with the feng shui."
2. "Wounds"
It's a song of healing. We know everything that Cudi has had to deal with his entire life — fighting depression and relying on drugs to remove his pain. But, as always, Cudi provides a message to people who are dealing with the same problem. "You got to dig deep" and sew your wounds.
1. "Cosmic Warrior"
This song sounds like it was left off of the Man on the Moon series. It is vintage Kid Cudi. Produced by Dot Da Genius, it just sounds good sonically. The strings at the end, the sound of phoenix flying across the sky, and the bass just sound beautiful. Cudi does not say that much on the record outside of one verse and a repeating hook, but he does not have to do much for it to be a good record.
Check out Kid Cudi's Passion, Pain & Demon Slayin' out now on iTunes and Spotify.