It's C-3PO's Fault Han Solo Got Screwed in 'The Force Awakens'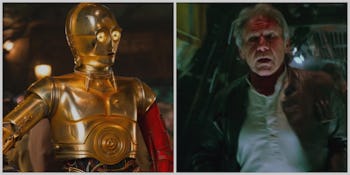 Lucasfilm/Inverse
If it weren't for C-3PO and his giant robot mouth, Han Solo might never have been caught by the criminals in both the Guavian Death Gang and Kanjiklub. A new in-canon Star Wars comic reveals C-3PO inadvertently tipped off both gangs as to Han's status, causing them all to form a temporary alliance to track down everyone's favorite scoundrel in The Force Awakens.
As spotted by Comicbook Resources, in the ninth issue of Marvel's ongoing Poe Dameron comic series, C-3PO is seen gossiping with Poe Dameron while the two are on an undercover mission just prior to the events of The Force Awakens. While prattling away about his good-old-days with Han Solo, C-3PO accidentally lets slip the exact business dealings Han Solo is up-to, which is totally overheard by members of both Kanjiklub and the Guavian Death Gang. This is relevant because up until this point, the two gangs were unaware that Han double-crossed both with an unsavory loan which involved Han purchasing some giant monsters known as Rathtars.
And, it's only after they all get this information from C-3PO do the two criminal gangs unite to track down Han Solo. Obviously, at this point in the story, the Guavian Death Gang isn't looking for BB-8 yet, so how their connection to the First Order figures into The Force Awakens remains as mystery.
Marvel's Poe Dameron #9 written by Charles Soule with art from Phil Noto is out now.