Here's Everything Leaving Netflix in January 2017
Don't leave your couch for the rest of December as you try to fit all these into your schedule.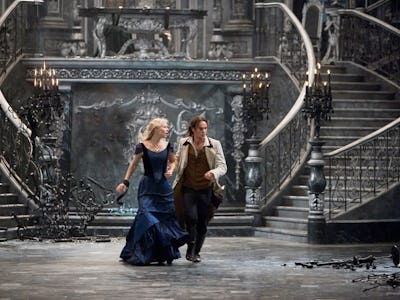 Pop-Verse
Instead of gearing up to accomplish whatever New Year's resolution you know you're going to give up on in three weeks, check out what's leaving Netflix in January 2017 before it's too late. You need to pay attention because there's a chance you'll miss something great.
For the most part, this list consists of a lot of collections of popular, easy watching shows, such as House Hunters, Cake Wars, and Chopped. January will also see the departure of the 30 for 30 documentary series from Netflix, so get your fill of NFL documentaries in before they leave on the first of the year.
But there are also some great titles on the way out the door: Stardust, based on the popular Neil Gaiman book of the same name, Bewitched, Dazed and Confused, the first two films in Vin Diesel's Fast and Furious franchise, Saving Private Ryan, The Amityville Horror, and Stephen King's A Good Marriage. And that's not to mention the modern classic Bring It On and its sequel, Bring It On: All or Nothing.
Here's the list of last calls on Netflix for this coming January. Move fast, people.
Leaving January 1
30 for 30: Winning Time; Reggie Miller vs. The New York Knicks
30 for 30: No Crossover: The Trial of Allen Iverson
30 for 30: The Day the Series Stopped
30 for 30: Jordan Rides the Bus
30 for 30: Without Bias
30 for 30: Once Brothers
30 for 30: Bernie and Ernie
30 for 30: Requiem for the Big East
30 for 30: The Price of Gold
Alvin and the Chipmunks Meet Frankenstein
Alvin and the Chipmunks Meet the Wolfman
Angry Birds Toons, Season 1
Bewitched
Blade 2
Bring It On
Bring It On: All or Nothing
Breakfast at Tiffany's
Coming to America
Columbo, Seasons 1-7
Crash
Cupcake Wars Collection, Collection 2
Chopped Collection, Collection 2
Dazed and Confused
Final Destination 3
Flip or Flop, Season 1
Fixer Upper, Seasons 1-2
Ghost Town
Hairspray
House Hunters Collection, Collection 3
House Hunters International Collection, Collection 3
House Hunters Renovation Collection, Collection 1
Jake and the Never Land Pirates, Seasons 1-3
Law & Order: Special Victims Unit, Season 13
Little Black Book
Little Man
Maid in Manhattan
Miracle on 34th Street
Murder, She Wrote, Seasons 1-12
Nanny McPhee
Property Brothers, Seasons 4-5
Saved by the Bell, Seasons 1-6
South Park: Bigger, Longer and Uncut
Stardust
Superstar
The Italian Job
The Painted Veil
Sixteen Candles
Saving Private Ryan
The Fast and the Furious: Tokyo Drift
The Fast and the Furious
The Uninvited
The Amityville Horror
The Wicker Man
Vanity Fair
You Live in What?, Season 3
Zoom: Academy for Superheroes
Leaving January 6
The Girl Who Played with Fire
The Girl Who Kicked the Hornet's Nest
Leaving January 29
Stephen King's A Good Marriage