Stan Lee Debuts Original Comic, 'Backchannel', on LINE Webtoons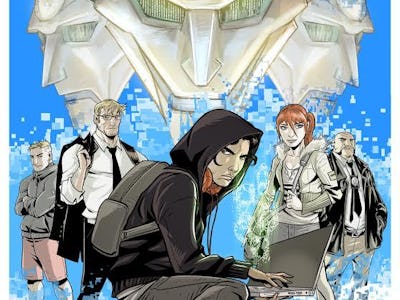 LINE Webtoon, POW! Entertainment
As Webtoon portals have gained in popularlity in recent months, western publishers are rapidly creating new and exciting content for the formerly Asian comics app, including Marvel's Stan Lee who will be debuting a new original comic titled, Backchannel.
Backchannel is an original concept from Lee, co-produced by Lee's POW! Entertainment and LINE Webtoon about a young high school student named Tom Tanner who uses his engineering gifts to create a sophisticated A.I. program. However, that A.I. also gives Tom the power to hack into any device using his mind. A kind of mashup between superhero comics and Watch Dogs.
While the details of the plot are pretty general, this appears to use Lee's template of gifted youth accessing incredible powers, only with a more 21st century vibe to it.
Webtoons is a term used for webcomics originated by South Korean comic artists. Their main differentiating aspect is that rather than a left-to-right composition, webtoons are created to read top-to-bottom. This form in particular makes Webtoons highly readable on mobile devices like tablets and smartphones.
Their ease in accessibility and readability on portable devices make Webtoons a strong contender for how comics should read on the mobile platform and app companies like LINE (who make the popular messaging service) and original apps like Tapas are ushering in a new wave of top-to-bottom comics. Marvel even debuted their first South Korean superhero, Silver Fox, on LINE Webtoons in an exclusive Avengers movie tie-in comic.
While it's highly unlikely that Marvel or any other western comic book publishers will convert to the webtoon, top-to-bottom format, it would be interesting to see publishers create content in both traditional book compositions, and webtoon formats as well.
Backchannel will hit LINE Webtoon app in Spring 2017. LINE Webtoon is currently available on the Apple and Google Play Store.