The Internet Roasts Dropbox for Its Version of Diversity
The ill-conceived tweet has sparked a bit of backlash.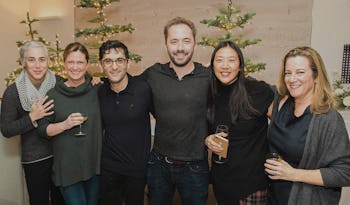 Dropbox
The pantheon of unfortunately captioned photographs has a new member. On Wednesday, cloud storage service Dropbox tweeted out a picture with the caption "Diversity at Dropbox" to highlight the strides it's made in hiring. Included in the tweet was a link to a blog post outlining some of its recent wins and statistics regarding bringing diverse perspectives into the company. While the post was well-intentioned, the internet saw an opportunity to roast the attempted outreach. There's a lack of diversity in the overall tech industry, and Twitter users weren't going to turn down a chance to laugh at what Dropbox thinks is "diversity."
In the blog post, Dropbox stated, "Over 75% of people using Dropbox today come from outside the U.S. with different needs and backgrounds." It went on to list various diversity initiatives run by the company, as well as to showcase the improvements made to the numerical gender equity on its workers, noting a 6 percent increase of women in senior leadership roles from 2015 to 2016. In terms of racial diversity, the company saw an uptick from 2 to 4 percent of new hires being black. Dropbox also explained, "Though we've made progress in hiring minorities this year, the numbers aren't where we want them to be."
That information, however, is not what most Twitter users latched onto. Acknowledging, of course, that identities like peoples' sexual orientations aren't visible in photos, the picture is notable for its lack of certain demographics, any black people whatsoever, for instance. Twitter users were quick to point out that the "diverse" group of people the company were showcasing wasn't the pinnacle of diversity.
The tweet was taken as merely another tone-deaf attempt at PR from a company in an industry that's much in need of improvement when it comes to hiring diversity.
It's a comical, if telling, misstep for Dropbox, a company which is clearly capable of actually producing a reasonably diverse photo if they want to.
Dropbox's mistake might serve as a reminder to other companies seeking to promote a message of diversity. Details in materials like a promotional pictures matter when the message is inclusivity.
And the GIF reactions keep on coming.
Dropbox is the woman, everyone else is the dude.
OK, sure, Dropbox.
These reactions are not to disparage whatever successes Dropbox has seen as a result of its initiatives. Rather, it's a humorous reminder that having a diverse workforce is a lot more than just having 4 percent of new hires be black.