Rick Perry at the Department of Energy Could Go One of Two Ways
Let's talk about this for a second.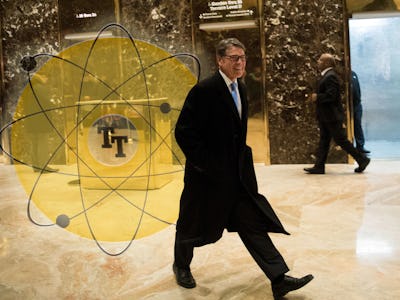 Getty Images / Drew Angerer and Wikimedia Commons
On Wednesday, President-elect Donald Trump announced his pick for the 14th United States Secretary of Energy: Rick Perry, former governor of Texas.
"As the former governor of the nation's largest energy-producing state, I know American energy is critical to our economy and our security," Perry said afterward.
President Jimmy Carter created the Department of Energy in 1977, so the position is relatively new. The past two energy secretaries — Steven Chu and Ernest Moniz — held advanced degrees in physics; Chu has a Nobel Prize. Before President Barack Obama appointed Chu and Moniz, though, each secretary, save a couple, was a non-academic politician or military official. If his nomination is approved by Congress, Perry will sit in that camp.
Energy experts believe Perry's credentials are insufficient for the gravity of the role. Last year, the Department of Energy spent most of its money on the development and maintenance of nuclear weapons: over 40 percent, or $12.5 billion of its immense $30-billion budget (or about $240 per U.S. household). It spent $5.4 billion on "Science" (of which $1.4 billion went to "High Energy Physics" and "Nuclear Physics") and $4.2 billion on "Energy." That latter spending included $2.1 billion on "Energy Efficiency and Renewable Energy," $869 million on "Fossil Energy," and $986 million on "Nuclear Energy."
Perry took over as governor of Texas for George W. Bush in 2000 and held the position until 2015. While serving, he oversaw energy production in his state. By 2015, Texas led the nation in wind energy production; wind energy makes up over 12 percent of the state's supply. Texas's Roscoe Wind Farm, which dates back to 2009, is the world's largest wind farm. Nuclear energy accounts for nine percent of the state's energy, whereas natural gas (at 47 percent) and coal (at 34 percent) are its most significant energy sources. As governor, Perry undoubtedly dealt with related decisions.
Perry's experience does not include a nuclear arsenal. Nor does he have experience negotiating nuclear conditions with foreign leaders. In addition, his scientific background is pitiable: He received extraordinarily low marks in his few science classes while at Texas A&M University. Memorably, during a televised 2011 presidential debate, Perry attempted to say that, as president, he would shut down the Department of Energy, because "he perceived it as the source of unwanted regulation in the energy sector, and also because he felt that private enterprise was sufficient to meet the nation's needs in that area," Lawrence M. Krauss writes in an op-ed for the New York Times.
While the decision could well temporarily handicap scientific research, and other worthwhile causes to which the Department of Energy devotes some funding, it is always worthwhile to consider alternative perspectives. For instance, supporters of Trump's decision may argue that the United States Constitution does not authorize the federal government to spend money in these fields, and therefore that the Department of Energy should not exist. The video below offers one such perspective, suggesting that taxpayers would be better off without such an organization.
In 2015, after retiring as governor, Perry began to serve on the board of directors for Energy Transfer Partners. "ETP currently owns and operates approximately 62,500 miles of natural gas and natural gas liquids pipelines," its website states, and is behind the controversial Dakota Access Pipeline.
Trump issued a statement Wednesday morning, indicating his confidence in Perry. "My administration is going to make sure we take advantage of our huge natural resource deposits to make America energy independent and create vast new wealth for our nation," Trump wrote, "and Rick Perry is going to do an amazing job as the leader of that process." "Perry will carryout [sic] President-elect Trump's vision to make America energy independent, create millions of new jobs, and protect clean air and water," Trump's transition team added.