'Rogue One' Shot Amidst a Real-World State of Emergency 
As the Rebels battled the Empire, real political turmoil raged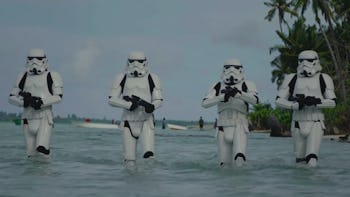 YouTube
The Star Wars saga has seen its fair share of different planet-wide environments, from the desert of Tattooine to the icy expanses of Hoth. For Rogue One, director Gareth Edwards and his team wanted a completely new setting to act as the backdrop to Scarif, and chose a the tropical locale to house the primary construction facility for the Empire's military technology.
"Scarif is based on a paradise world, so we had to go to paradise to film it," Edwards said during a Star Wars Celebration panel, and the paradise the production chose was the Maldives.
The man who helped make it happen is Mohamed Ibrahim, a Maldivian fixer who works as a film production coordinator for the tiny island nation in the Indian Ocean. According to Ibrahim, his company, called Blue N White, is the largest (and only) production coordination service in the Maldives. With that advantage, it treated the enormous and secretive production of the standalone Star Wars movie — the biggest the country has ever seen — just like any other when Disney sent a request to help shoot on location at the country's Laamu Atoll.
"There's a huge fanbase here and everybody gets excited," he told inverse over the phone. "No production really bothers me because I don't really watch the movies. The only thing that interests me is making sure we can do what they need us to do."
Ibrahim said he hoped the exposure would set up a kind of tourism boom for the country much in the same way the Lord of the Rings films did for New Zealand, and open the door for other Hollywood film productions to shoot there. He's already gotten a few big productions interested based off the work he did on Rogue One, but if the Maldives is to become a movie industry hot spot, it's got some major difficulties to overcome.
The Star Wars shoot occurred during a time of serious political unrest for the country, springing from the fallout of current President Abdulla Yameen's treatment of exiled president Mohamed Nasheed. In 2015, the former president was arrested and found guilty on terrorism charges, which many saw as a politically motivated. It led to protests, Yameen accusing his vice president of an assassination attempt, and a government sanctioned state of emergency.
Ibrahim said he worked to try and keep the production of Rogue One as far away from the political unrest as possible, but did use the government when the situation called for it — even if they didn't really understand how big Star Wars is.
"There was no hesitation on the government's part to help out, but the political situation at the time was a very difficult time for the Maldives," he said. "It was the toughest time in the country's history while the movie was shooting, but there was no hesitation. The president himself personally helped in certain things. Certain things weren't going to happen and those are the things that could only take a call from the "Oval Office" to happen, if you know what I mean."
While the country's political turmoil might turn some off, Ibrahim said that filming in the Maldives can be beneficial for both his country and the world as a whole. In particular, he stressed that it could shed light on the country's climate change problem. "Some people don't believe in it, like your President-elect. Even some Maldivians think climate change is crap," he said, "but of course the climate is changing. If it brings changes or any good to the country internationally as a tourist attraction or anything, that's the best thing that could possibly happen."
The lengthy Star Wars shoot was successful, though Ibrahim likened the challenges of the experience to a rough flight. "It's like going through turbulence," he said. "There's nothing you can do about it, you can't avoid it, so you just have to go through it. It's tough, but you still make it."