Cersei Could Meet Pirate Conor McGregor in 'GoT' Season 7
A new set report might mean a meeting is in order between Cersei and UFC champion Conor McGregor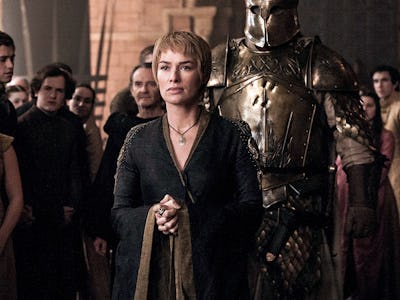 HBO
When it was announced that famous MMA fighter Conor McGregor will be appearing in Game of Thrones Season 7, the natural assumption was that he'd face off in a fight against the Mountain or the Hound. It turns out he'll be a pirate sailing with Euron Greyjoy, which would seem to rule that possibility out — but a new set report might beg to differ.
Lena Headey and Hafthor Bjornsson, who plays the Mountain, have been spotted en route to Dubrovnik. On the surface, this is not a noteworthy development, as Croatia has long been the stand-in for King's Landing. But Season 6 used Spain as King's Landing instead. The return to Dubrovnik therefore indicates that Season 7 will use a part of the city's aesthetic that is unique to the Dubrovnik set: that waterfront. Recall that Season 6 only featured interiors and shots within the city walls. They were kickass shots like Jaime riding his horse up steps for no reason other than to look cool, but nonetheless, they did not include the water.
The last time we saw Cersei on the waterfront, she was awaiting a ship carrying her dead daughter back from Dorne. This time, could she and her loyal bodyguard the Franken-Mountain be awaiting a meeting with certain pirate? Stranger things have happened on Game of Thrones.