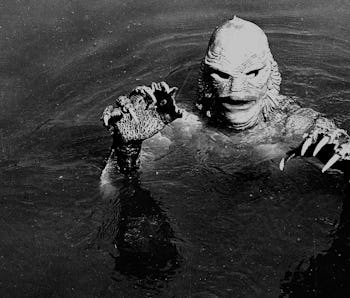 Entertainment
'The Creature from the Black Lagoon' Will Be Rebooted
Scarier than Dracula, and wetter than the Mummy, the Creature from the Black Lagoon — better known to those who love him as "the Gill-man" — might make an unlikely comeback and join other monsters in the new Universal Pictures continuity of horror creatures.
Director of the new Mummy, Alex Kurtzman, revealed to Collider that he wants the new Universal monster canon to include the titular creature from The Creature from the Black Lagoon. When directly asked which other monsters he wanted to reboot, Kurtzman said, "Okay, well, Creature from the Black Lagoon…I want that to be in the jungle. Okay, we're in the Amazon. Where do you want to shoot that, on the backlot or in the Amazon? No, we have to actually go there. Okay, if we go there what's THAT going to…? Well, now you're talking about a big movie."
Kurtzman also pointed out that the old Universal monster movies (starting with the 1931 versions of Dracula and Frankenstein) were "…the first mash-up; they were the first universe built. It started with, I think, Frankenstein Meets the Wolf Man."
After the new Mummy, Kurtzman is set to direct a new version of The Invisible Man, which will release in 2018, and then, according to IMDb, he has an "Untitled Universal Monster Project" slated for 2019. Could this film end up being the Creature? And if so, will the Gill-man from Creature from the Black Lagoon team up with the newly rebooted Mummy or fight him in an underwater cage match?
The Mummy will debut on June 9, 2017.