5 Reasons Not to Leave Your Couch This Weekend
Kick back superhero-style this weekend.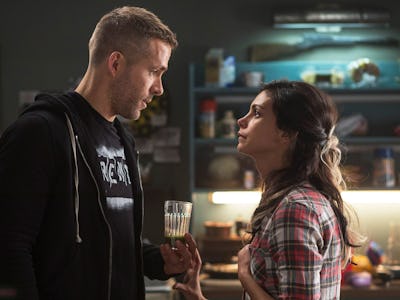 Twentieth Century Fox
Being a superhero doesn't always require a cape, but sometimes they're nice. December marks the halfway point for so many seasons of television, but some big names are the same ones that have been gracing comic book covers for decades. DC's The Flash, Arrow, Supergirl, and Legends of Tomorrow joined Marvel's Agents of SHIELD for a long winter's nap.
While it's pretty depressing that we'll have to wait a few weeks while Barry Allen and the gang take a well deserved break, we need to embrace this as an opportunity. A super opportunity. If you're caught up and find yourself in limbo, take this opportunity to go back and rewatch some of your favorite seasons and episodes of superhero TV shows. Stream some movies and wrap your cape (uh, blanket) around you for some extra warmth. And if you don't get this whole superhero craze, this is your opportunity. Beloved shows are taking a break, so now you get to play catch-up.
Below is a list of 5 superhero-themed TV shows and movies available to stream online. There's a really good chance you've seen all of these. Superheroes are popular for a reason right now. But who said you can't rewatch? This is your excuse to not leave your couch this weekend.
5. Justice League, Netflix
Seven members of the Justice League — Batman, Superman, Wonder Woman, Green Lantern, the Flash, Martian Manhunter, and Hawkgirl — teamed up for several years in the early 2000s to bring us this pure-as-can-be show that aired on Cartoon Network. Well-known DC characters such as Lois Lane, Poison Ivy, Steppenwolf, and Martha Kent pop up pretty often, and if you're on the lookout for some good, clean fun then be sure to check this series out. It's easy to binge, and is always good for a laugh.
4. Deadpool, HBO
We're not totally sure what you've been up to if you haven't seen Deadpool yet. Maybe inappropriate humor isn't your cup of tea. That's cool. But we'd still encourage you to give Ryan Reynolds's Wade Wilson a chance. Sure, the Merc with a Mouth is as violent as can be, swears worse than a sailor, and loves a good, uh, romp in the sheets, but he's loyal as can be and once you've earned his respect there's no getting rid of him.
When assassin-for-hire Wade Wilson finds out that he has terminal cancer, he undergoes a shady experiment that turns him indestructible. And when the evil, bald British dude who experimented on him kidnaps the love of his life, Wade suits up as Deadpool to get revenge and save his girlfriend.
3. Supergirl, Netflix
The only female superhero lead on television comes in the form of Kara Danvers's Supergirl. Portrayed by the appropriately adorable Melissa Benoist, Supergirl is much like her cousin Superman — she's got a heart of gold and abs of steel. On top of her indestructible skin, laser vision, super strength, and powers of flight, she has Martian Manhunter; her adopted sister, Alex Danvers; and the entirety of the Department of Extranormal Operations (the D.E.O.) on her side.
Supergirl opens with Kara as an assistant to Cat Grant, the CEO. and founder of CatCo Worldwide Media. She's hiding her powers from the world, but when her sister Alex is put into danger, she's forced to reveal herself. With the help of her diverse cast of friends, she transforms herself into Supergirl.
A side note for those who haven't seen Supergirl before: Superman doesn't show up until the beginning of Season 2, but it's worth the wait.
2. The Flash, Netflix
Grant Gustin's Barry Allen is the perfect bumbling baby. He's awkward and constantly uncomfortable in his own skin until he's struck by lightning and turns into the Flash. Working as a forensic scientist for the Central City Police Department gets a little difficult from time to time for Barry when he's trying to keep his secret identity hidden from everyone. But being the fastest man alive is totally worth the hassle.
The CW's The Flash brings in characters and storylines from the DC comics of the same name while still managing to make a TV show that stands firmly on its own. Cisco Ramon's one-liners are everything good in this world and Barry's love for Iris West is charming as can be.
1. The Adventures of Sharkboy and Lavagirl, HBO
This science fantasy comedy adventure film introduced a lot of kids to the whole superhero concept in the early 2000s. Sharkboy (Taylor Lautner) was raised by sharks after losing his dad at sea and Lavagirl (Taylor Dooley) shoots fire and lava from her hands, but has a hard time touching things without setting them on fire. Max, who's misunderstood at school and ignored by his parents, imagined the two of them up, as well as Planet Drool where he puts all his fantasies. When it turns out that all of his imaginings have come to life and he's the only one who can fix their world, Max has to travel to Planet Drool and set things right.
Not only is this movie incredibly wholesome, George Lopez plays a giant evil head. So it's definitely worth checking out.