Indie Publisher Launches Bonkers New Superhero Comic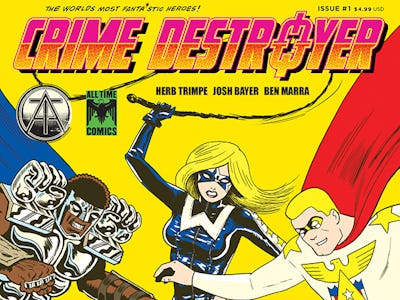 Fantagraphics Books
There's a huge divide between superhero comics and alt, indie comics, and publishing companies switch subjects as often as fans do: it doesn't happen much anymore. That's what makes All Time Comics: Crime Destroyer #1 from Fantagraphics Books so exciting, that the superhero book will honor classic comics art while parodying many of the tropes that mark the genre.
Writer Josh Bayer will head the project, with art and writing from Al Milgrom (co-creator of Firestorm), Noah Van Sciver, and Ben Marra. The story will follow a team of four superhumans, Atlas, Bullwhip, Crime Destroyer, and Blind Justice, as they work together and branch out into solo comics.
Speaking with Entertainment Weekly, Bayer says: "This is also a period when comics seem to be in danger of being eclipsed by movies and video games, and All Time Comics is here to remind people that comics, not movies, not action figures or toys, that started our cultural obsession with superheroes. All Time Comics is us, and we stand for comics. Comics are not fading. They will stand… for all time."
Whether you're more interested in Civil War II, or you were psyched to see Peplum appear in English this year, it's hard to argue with Fantagraphics as the company attempts to join superhero fans with comix folk who prefer their books subversive.
All Time Comics will be available in print in March 2017.