7 Winter Comics to Get You in the Holiday Mood
'Tis the season ... for comics!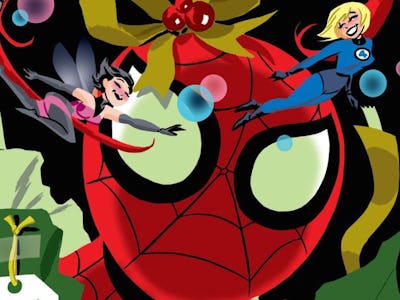 Marvel Comics
What are your favorite holiday traditions that get you in the seasonal spirit? Is it watching your favorite Christmas classics on TV? Eating your favorite foodstuff? Watching horror movies that take place during the holidays? How about reading some comics?
Forget old stuffy stories about humbugs and ghosts, and consider instead reading some seriously good comic book reads that capture the holidays in only the way superheroes in capes can capture. There are books on this list that will imbibe you with the spirit of the season, so grab one of these books, brew yourself some tea, and get into some great holiday comic book reading.
Batman: The Long Halloween
Jeph Loeb's beloved Batman graphic novel, The Long Halloween begins at a Godfather-style wedding in June, but true to its name, it starts ramping up during the holidays when a mysterious villain called the Holiday Killer begins attacking and murdering prominent members of Gotham high society on key dates like Halloween, Thanksgiving, and Christmas. Over the course of a year, Batman becomes a true detective and races against the clock to solve the ongoing murders. As a true noir detective story filled with Tim Sale's expressionistic art style that captures Gotham's Gothic winter, The Long Halloween is one of the best holiday stories set in the Batman universe.
Klaus
Punk rock comic book writer Grant Morrison partnered with Boom! Studios to create a six-issue miniseries simply titled, Klaus, a story about the origins of Santa Claus before he became a jolly, present-delivering holiday crusader. Instead, the eponymous Klaus is a viking crusader who battles evil in a fantasy, Conan the Barbarian-type world. Morrison reportedly dug into Santa Claus's viking and nordic heritage to craft the bloody warrior who would become St. Nick.
Surprisingly, Klaus is a trippy, violent, Game of Thrones-esque joy only the avant-garde Grant Morrison and Dan Mora could deliver. It will certainly make you appreciate Santa Claus in a new light, if not with a new respect considering the amount of raider hordes he's cut down in the name of justice.
Spider-Man's Tangled Web #21: "Twas the Fight Before X-Mas"
Written by the late Darwyn Cooke with art from Jay Boone, Spider-Man's Tangled Web #21 was a Christmas -themed one-off that centered around the mishaps occurring at a Daily Bugle Christmas Party. As Peter Parker runs out of the office to get last-minute Christmas presents for Mrs. Jameson at the behest of his boss, J. Jonah, and he ends up dragging in holiday hijinks from the likes of Medusa, Crystal, and the Fantastic Four.
Cooke's fun holiday story has only gotten better with age, and seeing these heroes engage in some lighthearted holiday fun with each other hearkens back to the Bruce Timm and Paul Dini style storytelling seen in DC's animated universe. Speaking of which …
The Batman Adventures Holiday Special #1
There's something about Batman comics that's perfect for winter. As a comic book universe with a dark disposition, its characters lend themselves well to the cold holiday season, even stories set in the relatively lighter DC Animated Universe. The Batman Adventures Holiday Special is the first comic book holiday tie-in for Batman: The Animated Series. Written by show writer Paul Dini and featuring illustrations by Bruce Timm, Holiday Special features six different holiday-themed stories starring characters like Batgirl, Harley and Ivy, and Mr. Freeze.
Giant Days 2016 Holiday Special #1
As one of the best comics for young adults(, Giant Days hits all the right notes with its first, double-sized holiday special. A retelling of It's a Wonderful Life, this alternate reality story imagines what it would be like if the three central heroines of the comic — Esther, Susan, and Daisy — never became friends in the first issue of the series. The result is a hilarious look at the slice-of-life college adventures of the three friends during the holidays, only they're rivals rather than best buds. As a classic story retold through a millennial lens, Giant Days has the pleasure of being the best holiday special in recent memory.
Hellboy: A Christmas Underground
Mike Mignola's Hellboy is similarly well-suited for yuletide stories. A Christmas Underground in particular is a beloved Hellboy holiday story which tells the story of a dying woman who mistakes Hellboy for Santa and asks to see her daughter one last time before she passes. Unfortunately, her daughter became possessed and married a rat demon. Hellboy, doing his best job as Santa, agrees to exorcise the spirit of her daughter so that two could be reunited one last time. Short and sweet, Mignola's Christmas special feels like a classic fairy tale retold with demons and ghosts. Perfect for the holidays.
A Cosplayer's Christmas
Dash Shaw's comic about cosplayers pulls a "Gift of the Magi" situation where two best friends decide to get each other gifts that indulge the other's cosplay habits. The first story stars Annie as she goes on a quest to find the perfect "holy grail" to compliment her friend's Indiana Jones cosplay, while the second story follows up with Verti looking for a cosplay gift for Annie. As a comic that indulges in the spirit of giving, A Cosplayer's Christmas is the perfect reminder for you to start your holiday shopping right away.