Why — and How — Is Sofia Vergara Being Sued By Her Own Embryos?
She's not really — her ex is using them as proxies so he can get what he wants.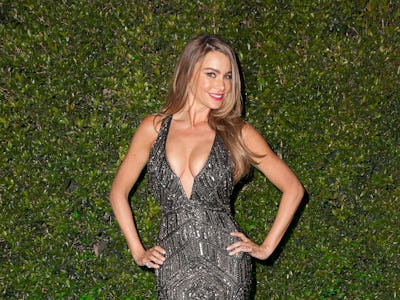 Getty Images / Gabriel Olsen
Modern Family star Sofa Vergara is being sued by her own unborn babies for their right to live — sort of. Vergara's frozen embryos aren't actually suing the actress themselves because, well, they don't exist yet, but her former fiancé is using them to get what he says they would want.
Vergara, 44, created the embryos when she was still together with Nick Loeb back in 2013. Loeb sued Vergara for custody of the frozen embryos — which neither of them is legally allowed to do anything without consent to of the other — in California already, but things really got interesting in a new case filed in Lousiana on Tuesday.
This lawsuit claims that "Emma" and "Isabella," as the suit names the embryos, are being deprived of their inheritance from a trust that had been set up for them in the extremely pro-life state on account of not being born, The New York Post reports.
The lawsuit argues that the contract Vergara and Loeb signed at the ART Reproductive Center in Beverly Hills prohibiting them from doing anything with the embryos without the other's consent should be voided, because the wording didn't specify what should happen if the couple were to split, as they did.
There is one additional person — yes, a real living person with a birthday and all — named as a plaintiff on the suit, James Charbonnet. He's listed as the embryos' "trustee."
The big issue, beyond whether or not "Emma" and "Isabella" will ever get a chance to spend their inheritance, is that this raises a whole bunch of new ethical and legal questions. If this potentially landmark case ends up going in Loeb's favor, it could imply that embryos have a monetary right to life. That possibility, that raw capitalism could trump a woman's right to choose, is incredibly unsettling, to say the least.