'Outlander' Season 3 Approaches a Plot Point That Could Break It
'Outlander' Season 3 will cause the tension between the books and the show to come to a head.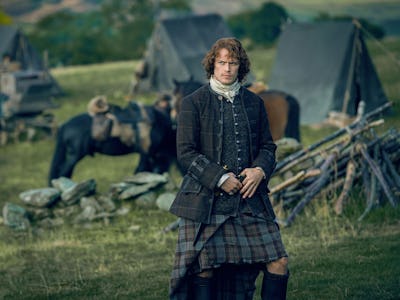 Starz
In the increasingly widespread genre of epic period piece TV, Outlander has always stood out. Its time travel motif ensures that Claire's (Caitriona Balfe's) 1940s feminist sensibilities will always clash with Jamie (Sam Heughan's), who hails from the 1700s. But the show has always had a much larger tension to tackle in its source material, despite being outdated, as it is in many regards, as a book series written in the '90s. And thanks to some recent casting news, it's clear Season 3 will confront this difficult topic head on by engaging in a cultural conversation about rape and consent.
Outlander viewers who don't want Season 3 spoilers, step back though the stones now.
Season 3 has cast Hannah James as Geneva Dunsany, which means that a character who occupies rough narrative waters in the novel, will soon make her way onscreen.
During Jamie and Claire's long separation, she engages in a one-night stand with Jamie. This is how their sex scene goes in Voyager:
"Stop it! It's too big! Take it out! Panicked, Geneva thrashed beneath him.
He clapped one hand over her mouth and said the only coherent thing he could think of. "No," he said defiantly, and shoved.
Objectively, that is rape. She tells Jamie to stop; he proceeds without her consent. And yet, the book shrugs it off as a non-issue, which would land like a lead balloon with today's audiences. If the show is including Geneva, it's reasonable to assume that scene will appear this season. If so, it would be highly difficult for the viewer to continue regarding Jamie as a hero worth rooting for.
But instead of a breaking point, the show could also use it as an opportunity. In its two best episodes to date — "The Garrison Commander" and "The Wedding" — the TV series showed a willingness to move beyond treating the source material as gospel. The end result was a story that elevated its original story into a narrative far more nuanced and complex.
The easiest route would be for the show to feature an uncomfortable, yet consensual, sex scene — one where perhaps the sex isn't good, but Geneva wants to have it with Jamie. A more complex route would be if Outlander still features the scene as-is, and yet demands that Jamie answer for it, both to Claire, or in his own mind. Because Jamie himself has been raped, it would be a chance to continue diving into his psyche and showcase the tragic, cyclical nature of abuse.
Whatever the show decides to do, Geneva's casting ensures that the tension between the book-audience of the 90s, and the modern TV audience, will be forced to come to a head in Season 3. And as Outlander has a passionate and vocal internet fandom, the ensuing drama could be a force greater than the winds of Craigh na Dun. Just like its heroine, the show has a crucial decision to make.
For a time-travel story about the Jacobite rebellion and World War II, the most compelling culture clash lies outside the narrative.