Baby Groot Almost Kills the Guardians in New Teaser Trailer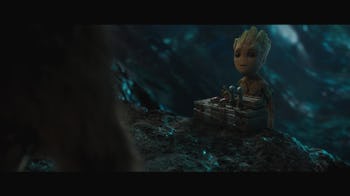 Marvel Studios
Marvel just released the second teaser trailer for its upcoming film Guardians of the Galaxy Vol. 2, and viewers get two minutes and twelve seconds worth of Baby Groot antics. So hold onto your butts and prepare to be slayed by the tiny talking tree, and he fails to grasp Rocket Raccoon's instructions, nearly killing the Guardians.
Director James Gunn took to Facebook to drop the teaser early, revealing that the second helping of Guardians is his favorite movie ever.
"It's my favorite movie ever, and I hope it will soon be yours," he said.
The new teaser highlights Rocket's engineering skills as he constructs a bomb while simultaneously trying to keep Baby Groot from setting it off. When Rocket's back is turned, the tiny sentient tree takes off running with the bomb in tow, screaming "I am Groot!" which Rocket fears spells impending doom for the group.
We also get a peek at Baby Groot's fighting skills as he and the rest of the gang are pitted against what looks like a giant alien squid-like creature.
If the teasers are any indication, the highlight of the film will definitely be Baby Groot. He's adorable and has a voice that is tiny — we can't even — but maybe Rocket shouldn't trust the seemingly trigger happy tree with an armed nuclear weapon. "The fate of the universe rests in your hands," Rocket tells him, "but don't push this button."
You will have to wait until May 2017 to find out if the group is able to save the galaxy once again. In the meantime, feel free to watch Baby Groot in all his glory below.