Million Dollar Sculpture at FBI Headquarters Made People Seriously Ill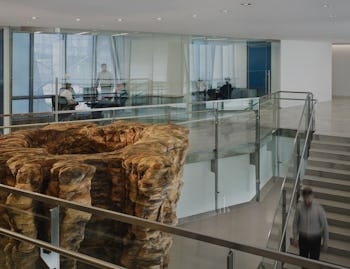 Hedrich Blessing
In early 2015, the government commissioned a seemingly innocent, towering art installation for a FBI field office in Miami. What they didn't know was that they were simultaneously hauling in an accidental bioweapon right into their midst. The sculpture — which cost $750,000 — sent more than a dozen people to the hospital due to serious health complications. Whoops!
According to Politico, the piece, Cedrus, was created by artist Ursula von Rydingsvard out of 15,000 pounds of Western red cedar imported from Vancouver. The 17-foot-tall sculpture (which was probably worth even more than the government paid for it) was installed in early 2015, but had to be removed in October of that year after FBI workers started getting sick.
Several people suffered severe allergic reactions to cedar dust the sculpture constantly shed, and a dozen workers were hospitalized.
"The health and safety issues surrounding the sculpture were real," wrote Richard Haley, the FBI's assistant director of finance overseeing department property in a letter obtained by Politico. "One employee required an 11-day hospital stay and none have been able to return to work at the new field office."
The office's only nurse was one of the 17 people affected by the cedar, suggesting (perhaps) that the wood had gained some level of sentience and was targeting potential threats first.
It took the FBI and the General Services Administration, the government agency that leased the space in the first place, months to get rid of the sculpture. It was finally removed in October, and the entire ordeal was estimated to have cost taxpayers $1.2 million. The FBI and GSA both think the other agency should be on the hook for the expense.
Cedrus is currently being stored at the GSA's fine arts facility in Alexandria, Virginia, and will next be sent to a storage facility in Maryland where it can't harm anybody.