The World's First Physical Esports Store Opens in London
But it won't be around for long.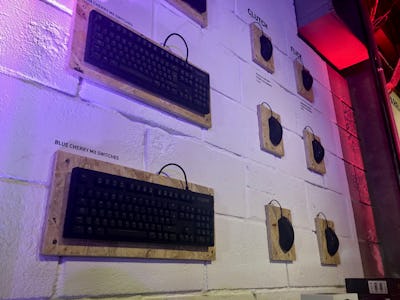 Mike Brown/Inverse
Sam Mathews is ecstatic. The founder and chairman of esports team Fnatic has just helped to open the world's first brick-and-mortar store dedicated to competitive gaming, even if the enterprise is more of a pop-up experiment.
Named Bunkr, the shop's in London's hip Shoreditch area, opened its doors November 25, and on Thursday the team held an event to show fans the new store and reveal the 2017 League of Legends player lineup.
"We wanna bring that feeling you get from an arena into a place which is a bit closer to home," Matthews told Inverse at the grand opening. "So people can watch a live tournament, they can be amongst their friends, and it's actually really representative of esports in general."
The store sells a variety of merchandise, like specialist keyboards, mice, guides on how to perfect your gaming style, and Fnatic-branded gear like shirts, hats, and badges. There's a virtual reality area (which wasn't operational on the night) and a bar serving beer and Monster energy drink. TVs in the corner play clips from matches, and the walls are adorned with arena photos from big Fnatic wins. It's an esports fan's dream.
If anyone was going to start an esports store, it had to be Fnatic. Consistently listed as one of the best esports teams in the world, the London-based squad has jumped from strength to strength since its inception in 2004. The new League of Legends lineup has big shoes to fill: the 2015 lineup made history as the only team to ever go an entire season undefeated, winning 18 games in a row.
Esports is seeing rapid growth worldwide, and in a lot of ways, Bunkr has opened at a perfect time. The market was worth an estimated $463 million this year, a figure that's expected to hit $1.1 billion in 2019. But London's traditional high street shops don't exactly scream "futuristic virtual sports." While brick-and-mortar sales have been falling for years, online retailers are starting to believe that an "omni-channel" approach, where a store presence is maintained to promote online, is the key to success.
"Esports is something you need to experience," said Benoit Pagotto, Fnatic's head of marketing. "Right now, the opportunity to experience it is either online, but if you're not accustomed it can be daunting or a bit crazy when you see all these things happening, or a real physical tournament."
Pagotto comes from a retail background, and he's been interested in making a Fnatic store happen for around a year. Teams will lay out merchandise stores at stadiums, much like how bands sell shirts at concert venues, but the idea of a physical store was something unique. The new premises also serves as Fnatic's headquarters, located through a rear door, and the store was installed from start to finish in just three weeks. For most stores, the process lasts around three months.
"That's the thing with Fnatic. We're a big organization, but everyone is super passionate and super agile in the way we think," Pagotto says. "We really act like a startup, so when we want to do something, we don't have to go through 10,000 decision processes."
Although the store may attract newcomers to esports, on Thursday the Bunkr was packed with fans eager to hear about the big Fnatic announcement. Ruben Lejzerowicz, an 18-year-old computer science student at King's College London, said that as a Fnatic follower, he saw the team was opening a store nearby and decided to stop by.
"It's more like to remind esports of where it came from," Lejzerowicz said, comparing the lavish arenas of today's esports to its humble beginnings, where friends would meet up for one-on-one battles. "This is like the first vision of it."
First vision is better than no vision, and it's fair to say that despite its incredible growth, the man on the street probably doesn't know too much about esports. A novice might not know their overclock from their Overwatch, but with the tournament cups in the corner, the photos of big gaming moments and excited fans chatting with their heroes at the bar, you immediately realize that this movement is a really big deal.
"There's some like friends from high school and college or whatever who didn't really didn't know about esports," said Faraaz Waris, a Fnatic player that goes by the name Stoop. "I'm here now, and I'm talking to them about it, and they're like, 'Oh my god, I didn't even know you could get to this level'."
It's an impressive move for an industry trying to bring new converts into the fold. Unfortunately, the Bunkr is currently scheduled to close December 24. The team are in the process of extending the date, but the experiment will set the way forward for future stores. For Pagotto, the London Bunkr is not the end by any means.
"I think it's a good place to start with, London, but we want to do this a lot next year, all around the world," Pagotto said. "It's a good first test."