6 Reasons Not to Leave Your Couch This Weekend
Welcome to the holiday blues. Here's your comfort blanket.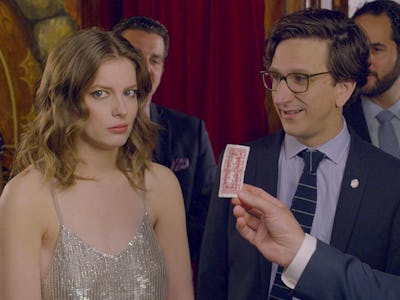 Previously.TV
Sometimes the holiday season is the worst. Family members fight, people break up, you spend too much money on the perfect gifts, and your favorite television shows are off the air for a few weeks after their mid-season finales.
So you need some things to make you feel better about yourself, your lot in life, your relationship status, and your family. We've got you covered. The holiday blues are a very real thing, and everyone needs all the help they can get at this time of year.
So, below, please find a streaming recommendation list for the first weekend of December. Whether your problems are familial, romantic, or just something you're personally struggling with, here are six shows and movies to make you feel better about yourself and your situation during this holiday season. Happy beginning of the holidays. Make yourself some hot chocolate and curl up under your fuzziest blanket.
6. They Came Together, Hulu
Amy Poehler and Paul Rudd star alongside a gaggle of funny people to make this parody of the typical romantic comedy. Molly (Poehler) meets Joel (Rudd) and, much to her surprise, he likes fiction! They have so much in common. So they date, they fall in love, they play in the leaves at the park and unknowingly uncover a dead body.
This is a movie to remind you that love is weird and complicated and never perfect. And our society's perception of how love is supposed to go down — this scripted, meet-cute algorithm described by so many rom-coms — is bullshit. Plus, who doesn't love a good satire?
5. You're the Worst, Hulu
Jimmy (Chris Geere) and Gretchen (Aya Cash) are the worst kind of people. They're lazy, messy, and hold the most toxic kinds of relationships. So they sleep together in a one-night-stand of sorts — and, lo and behold, they end up falling in love. So what do you do when you find a person who's equally as horrible as you? You try and make it work. Hilariously badly.
There's a lot to say about this show: it's inappropriate as hell and the writing is always, at the least, interesting. Plus, with how horrible Jimmy and Gretchen are, you'll certainly feel better about yourself.
4. Veep, Amazon
There's a reason Veep has won as many Emmy awards as it has. Julia Louis-Dreyfus leads this killer cast as Vice President Selina Meyer, the stereotypically unappreciated VP. It definitely falls under the category of being one of those shows that makes politics almost too real, but in the best way possible. Most of us want to forget the most recent election season, but, with Veep, you'll undoubtedly forget it entirely despite the subject at hand.
Tony Hale's Gary Walsh, Selina's bumbling aid, makes the entire series. And her daughter is as relatable as can be. No matter how frustrating your life is, there are few instances where it is as mortifyingly so as the Vice President's.
3. LOVE, Netflix
Judd Apatow's Netflix Original, LOVE, follows the weird millennial story of Mickey Dobbs (Gillian Jacobs) and Gus Cruikshank (Paul Rust). They're total opposites. Mickey is a slacking snarker who enjoys sex and Gus is a bumbling, love-sick nerd with confidence problems. They meet by accident, become friends, and, yes, slowly begin a genius, slow-burn romance.
Here's another television show to binge watch that falls under the "unlikely partnership" brand. Mickey and Gus are weirdly perfect for another and prove, much like so many shows of its kind, that you can find romance no matter how out there you are. The dialogue of LOVE feels incredibly real, and the scenarios in this Apatow special are just awkward enough that they're completely accurate.
2. Grace & Frankie, Netflix
There's a good chance Grace and Frankie have a more complicated family life than you do. Grace Hanson (Jane Fonda) and Frankie Bergstein (Lily Tomlin) find out that their husbands, law partners for decades, have been sleeping together for almost just as long. And they're in love. And they're leaving their respective wives to marry each other. What are two elderly women who are complete opposites in every way going to do? Become best friends, of course.
Grace & Frankie follows the complicated, often frustrating, but always heartwarming story of the Hanson and Bergstein families. And the new, weird world order than they live in. If you haven't watched this show, it's Jane Fonda and Lily Tomlin, so what are you doing with your life if you haven't already watched these fabled women play exaggerated versions of themselves on screen?
1. Fleabag, Amazon
Adapted from the award-winning play of the same name, Fleabag follows a young woman known only to the audience as just that: Fleabag. She's a desperate Londoner who loves sex and survives on chaos. Not only does she make horrible decisions for herself, she also surrounds herself with horrible people.
This is the ultimate "feel better about who you are as a person" story for the holiday season. It's a six-part story that is fully wrapped up in that time period. There are no further seasons. You're in and out of this story line. But Fleabag's story will inspire you to a higher ideal. Or it'll just prove what a good person you are. Either way, it's worth the watch.