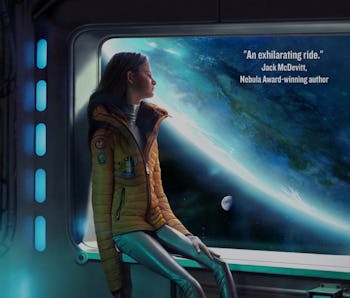 Entertainment
11 Science Fiction Books That Will Define 2017
We all need some escapism after the storm that has been 2016.
Science fiction books have always looked toward the future through both creative speculation and adventurous escapism. After the 2016 Presidential Election, science fiction authors are poised to be more influential than ever before.
Luckily for readers, sci-fi authors are known to churn out their books like rabbits, creating a never-ending stream of great works. In 2017, we'll see the continuation of several acclaimed book series, but will also have plenty of impressive standalone science fiction, too. Below is a list of eleven books that are slated for release in 2017 that will define science fiction in the upcoming year. Keep in mind these dates can be finicky, and that they can change at warp speed. But, otherwise, happy reading to your future self!
Expanding on his renowned Family Trade series, Charles Stross introduces his readers to the world of Empire Games. A brand new generation of paratime travelers is walking between parallel universes now in the year 2020, 17 years since the Revolution overthrew the New British Empire. The North American Commonwealth is quickly building itself up, and its chances of defeating the French and establishing worldwide democracy look good. With alternate timelines, the threat of nuclear war, and paratime espionage agencies managing everything, this book is sure to be a winner.
Expected January 17
Carrie Vaughn's upcoming novel is sure to be a crossover hit. Vaughn is best known for her urban fantasy writing, and Martians Abroad marks her first dive into the realm of science fiction. Polly Newton wants to traverse the galaxy as a starship pilot, but her mother, the Director of the Mars Colony, sends her and her genius brother, Charles, to the Galileo Academy on Earth instead. But when strange coincidences start piling up around their more high-profile classmates, Polly and Charles become determined to find the truth.
Expected January 17
The second book of Terra Ignota continues Ada Palmer's political sci-fi epic. This is a world instantaneous travel between continents is possible for everyone, where automation solves even the most basic of needs, where war is a thing of the past, and where gendered behavior is deeply taboo. But something entirely new has arisen in this seemingly perfect world on the brink of collapse: Bridger, a child who can bring inanimate objects to life.
Expected February 21
New York City is submerged in this new novel from acclaimed author Kim Stanley Robinson, best known for his Mars trilogy. But in the year 2140, the residents of NYC are just as adaptable and stubborn as ever: They turned the roads into canals and the skyscrapers into islands. New York 2140 will tell the story of this new reality, born of climate change and rising seas, through the eyes of several inhabitants of a single building.
Expected March 21
Humanity, now known as the Interdependency, has left Earth behind in John Scalzi's new work, The Collapsing Empire. After the discovery of the Flow — an extra-dimensional field accessible at different points in space-time with the ability to transport people and ships from one point to another humanity is spread across space. But the Flow is collapsing, resulting in the potential loss — and subsequent deaths — of communities throughout the universe. A scientist, a starship captain, and the Empress of the Interdependency must work together to see if their intergalactic empire can be saved.
Expected March 21
The sequel to D. Nolan Clark's epic space adventure, Forsaken Skies, comes in Forgotten Worlds, proving that the war has just begun. Aleister Lanoe has decimated the alien armada that threatened Niraya. But a simple win isn't enough; he won't be finished until he's found the armada's home world and destroyed it. But his revenge will have to wait in the midst of a new threat and the presence of the Centrocor corporation. Earth's future might lie in the balance.
Expected April 18
Jack Campbell, the renowned military science fiction author, returns to the world he created in the bestselling Lost Fleet novels to explore the founding of the Alliance. Earth is no longer the center of the universe, and humanity has spread out across the universe to create new colonies. But all is not well: Battles rage and warships tackle enemy fleets and pirates alike. The fate of peace lies in the hands of Carmen Ochoa, a "Red" from the anarchic world of Mars, and Lochan Nakamura, a failed politician. If they don't succeed, sections of space founded on freedom could turn into battlegrounds for the first interstellar empires.
Expected May 16
James S. A. Corey — the pen name of a collaboration between Daniel Abraham and Ty Franck — releases the seventh in the nine-book Expanse series in June of 2017. While the plot of the upcoming novel is unknown, it will undoubtedly take place in Earth's galaxy expanding future, made possible by the ring, an artificially sustained wormhole.
Expected some time in June
Here's the second novel in William C. Dietz's post-apocalyptic military science fiction series that takes place after a natural disaster — over a dozen meteor strikes and a new American civil war. Wealthy power mongers are looking to rebuild the United States from the ground up as a corporate entity called the New Confederacy. The Union president is gathering his forces in an attempt to keep the country whole. A pair of sisters will fight on both sides, and when they meet on the war-torn streets of New Orleans, only one of them will live.
Expected June 20
The crew of the Keiko, a ship of smugglers and adventurers traveling between Earth's planet colonies in search of a job, is meant to have a restful time at the Grand House casino on New Samara, but that doesn't last for long. When Captain Ichabod Drift takes the crew on a data retrieval job, the crew gets caught up in the new revolution. And all they can do is pick a side and hope they come out alive.
Expected July 11
Finally, here's N. K. Jemisin's final story in the Hugo Award-winning Broken Earth books, The Stone Sky. Essun has inherited the power of Alabaster Tenring. Her hope is to use this newfound power to create a world where her lost daughter, Nassun, and every orogene child can be safe. But Nassun's mother was too late in gaining control of the Obelisk Gate, and Nassun has realized that sometimes the world can only be truly cleansed with fire.
Expected August 15