My Brief Romance With Red Lobster, Tinder's Corporate Fuckboy
I thought it was a match made in buttery goodness.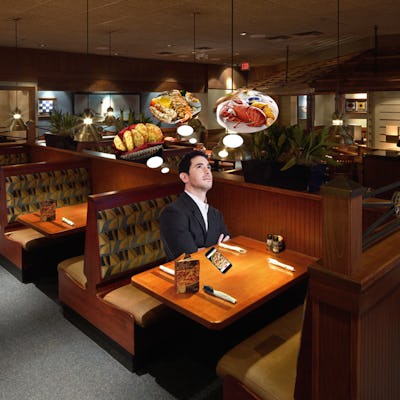 Twitter
Dating in New York City isn't always the easiest. It seems like everyone's too afraid to commit, too focused on their careers, or too interested in screwing around. Hardly anybody wants to go on a real dinner date; it's just happy hour drinks after work or 3 a.m. booty calls. Nonetheless, I still find myself spending my downtime aimlessly swiping through guys on Tinder. This is the impossible task I've given myself: Find the dateable, well-adjusted needle in a "hey" stack.
I always knew finding the "one" would be a logistical impossibility, but then, one night, it happened. His picture was of a bowl of shrimp alfredo and he was a bit old for me (a healthy 48 years old), but I felt an attraction immediately. I wasn't put off by his slightly unusual name, Red Lobster. The heart wants what it wants.
So there I was, laying in bed, a cheeky smile illuminated by the glow of my iPhone as I considered whether or not to swipe right on this main course of a man. After savoring his other pictures (hot in all of them, I gotta say) and taking a moment to deliberate, I swiped right.
We matched.
I knew it was unhealthy to build up expectations for a guy I hadn't met, or even talked to at all. But from his profile, I was just so excited about the chance with a someone who really got me. Someone who's not afraid to get a little cheesy, whose friends call them spicy? Dreamboat, much. Do I love endless shrimp? Hell yeah I do. I found myself imagining our fantasy future: the home in Palos Verdes, the white picket fence, our children Nathaniel and Brie, and our house dog Scallop. I wanted to stay in that imagined place, where Red Lobster and me, Mr. Gabriel Bergado-Lobster, could grow old together.
Red Lobster messaged me almost instantly and butterflies erupted in my stomach. It seemed like soon the only thing that was going to be in my tummy would be some shrimp scampi. I was excited.
A free appetizer or dessert with an order of two adult entrées? Sounded like heaven. But then it dawned on me that he wasn't asking questions. He's all like, "thanks for the swipe." Who opens up with that? Then he had the nerve to be like, "Oh, you can take someone else to enjoy some crab legs and cheddar bay biscuits." But I wanted to eat cheddar bay biscuits and share an appetizer with him. I wanted him to be my cheddar bae biscuit. And all those shrimp emojis were obviously just a sad attempt at being cute. Was he not impressed with my delicately-curated Tinder profile, decked out with a witty tagline and the cutest pics from my Instagram?
I wasn't going to let him go so easy. So I decided to go into flirt mode. I had to trap this lobster. But it ended up just making me look a little desperate.
Nothing. How dare he offer me a free appetizer or dessert but not even have an adult conversation about American politics' spiral into the hands of white nationalists and fascism enthusiasts. He didn't even have the manners to tell me he just wasn't interested.
But they had the AUDACITY to retweet me when I tried reaching him through a different form of communication and then flirt with my friend Nina right in front of me. Fuckbois these days. I know that ghosting's an epidemic when it comes to millennial dating, but I didn't realize I'd be facing a real life ghost lobster.
On top of all this bullshit, Red Lobster matched with Nina and sent her the same exact message he sent me. Sure, offering some free grub is a pretty good flirting technique. But you can't just recycle the same move on every possible beau.
Some time has passed since Red Lobster played me and I finally feel comfortable exposing him for what he is. I checked out his profile recently, and he's moved from being one mile away to one hundred. Looks like he's taken his fuckboi activities elsewhere.
But I still have a pass for a free app or dessert, so if anyone's interested they can hit me up.