Felicity Jones Talks 'Rogue One' and Confirms C-3PO Drinks Tequila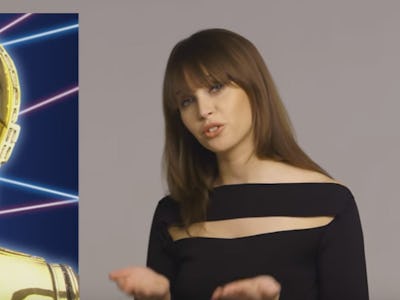 Glamour/Youtube
Jyn Erso thinks C-3PO would bring her tequila on a tray after a bad breakup, because that's the kind of classy droid he is. And while Jyn actor Felicity Jones doled out superlatives to a long list of Star Wars characters in a new video, she missed some important awards.
Glamour sat Jones down just a few weeks before the December 16 premiere of Rogue One: A Star Wars Story to test her knowledge of the Star Wars universe in the form of superlatives. Jones doled out the awards with the same grace as Princess Leia at the end of A New Hope. Incidentally, Leia earned the coveted superlative of "Most Likely to Dance to Beyoncé," though Jones figured she'd only do so in private.
As for the other awards Jones gave out: Chewbacca is Most Likely to Gossip Incessantly; Jabba the Hutt is Most Likely to Cat-Call a Woman in the Street; Jar Jar Binks is Most Likely to Get Too Drunk at Brunch; the Rancor is Most Likely to Trash a Hotel Room; Han Solo is Least Likely to Get His Feelings Hurt by an Offensive Comment; Kylo Ren is Most Likely to Regift Your Christmas Present (because "he has no feelings"); Rey is Most Likely to Look After a Wounded Animal; Yoda is Most Likely to Stay in on a Friday Night; Obi-Wan Kenobi is Most Likely to Fall Asleep While Watching a Movie; and Darth Vader is Least Likely to Tip a Waiter (and "he'd probably just kill him" anyway).
But some vital awards were missed. Like, Finn is Most Likely to Help an Old Lady Cross the Street, and his companion Poe Dameron is Most Likely to be a Woke Bae. Luke Skywalker is Least Likely to Know How to Change a Tire, and his mother, Padmé Amidala, is Most Likely to Bemoan the Death of Liberty, and the trusty R2-D2 is Most Likely to Swear at Inappropriate Times. Oh, and Emperor Palpatine is Most Likely to Blame His Fart on Someone Else.
There are so many more awards to give out after almost 40 years of characters, but that's it for now.
Watch Jones's awards ceremony below and be on the lookout for her as Jyn Erso when Rogue One premieres December 16.