George Hotz Teases Comma Autonomous Car Box to Rival Tesla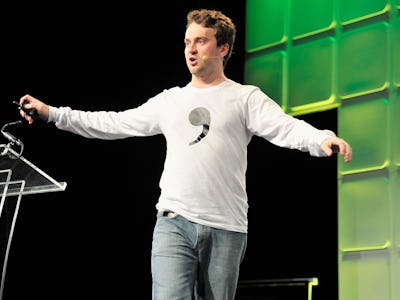 Getty Images / Steve Jennings
George Hotz is back. The tech entrepreneur, whose Comma One box was meant to bring autonomous driving to existing cars before it got abruptly canceled, has now alluded to a new autopilot system set for reveal on Wednesday in San Francisco.
On his company's Comma AI Twitter, Hotz announced a press conference will take place at 10 a.m. Pacific time, stating that "you won't want to miss this." When Twitter user BobSmullen responded that he thought the Comma One had been canceled, Hotz confirmed that was still the case.
However, moments later, Comma AI posted a picture of four supposedly canceled Comma One boxes. The device, intended to retail for $999 with a $24 per month subscription fee, would have slotted in place of the rear view mirror, using the front radars of a limited list of vehicles to bring autonomous capabilities to traditional cars. Last month, Hotz abruptly canceled the box after the National Highway Traffic Safety Administration (NHTSA) expressed concerns about safety.
Fueling rumors that Hotz is set to stage a comeback on Wednesday, his "geohot" YouTube account uploaded a video of a Comma One-looking device analyzing the roadway. "Who would have thought 10 years later we would be jailbreaking cars?," the video description reads. "I love the future."
If Hotz announces a new autonomous driving kit, he may beat Tesla to market. Elon Musk revealed his company's self-driving plans last month, suggesting the feature may reach consumers by the end of 2017. Tesla cars shipping now, packed with the latest hardware sensors, will be later eligible for a software update that brings level 5 autonomous capabilities, the highest possible tier. On the company Vimeo account, Musk has shared a video of the feature in action.
The question is how, if it is indeed a revival of the Comma One in a new form, Hotz will combat the safety concerns raised by the NHTSA. Hopefully, all will be clear by the end of Wednesday.