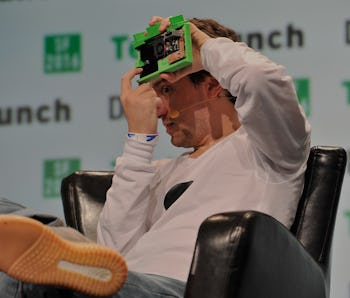 Innovation
Comma.ai's $999 Add-On Brings Tesla Autopilot to Other Cars
Getty Images / Steve Jennings
Want Tesla's autopilot mode, but without the hassle of actually buying a Tesla? Say no more. George Hotz, the 26-year-old famous for unlocking the original iPhone, has developed a $999 add-on with his startup Comma.ai that will enable limited self-driving capabilities for existing cars. Best of all, the Comma One is planning to ship this year.
"It's Mountain View to San Francisco without touching the wheel," Hotz told an audience at TechCrunch Disrupt on Tuesday. However, don't cancel your Google car pre-order just yet. Those familiar with Tesla autopilot will know that the system is more geared at driving on highways. Actual door-to-door self-driving is still a way off.
The Comma One is a box that replaces the rear view mirror. It comes with a camera used to work out the car's location. However, the box depends on using the vehicle's front radars, and the box will only work in a limited number of cars. Comma.ai hopes to expand this list over time, though.
"It is fully functional. It's about on par with Tesla Autopilot," Hotz said. "If they are the iOS of self-driving cars, we want to be Android."
Hotz has made his self-driving ambitions known for a while. In April, he described a device that sounded very similar to the Comma One, aimed at a price point under $1,000 (which he technically achieved). The startup netted $3.1 million in funding from A16z that same month, after which Comma.ai launched an app for collecting driving data in the hope of improving the company's self-driving abilities.
Those eager to get their hands on the device may have a wait on their hands. Although Comma.ai is aiming for a 2016 launch, it's likely to arrive in limited quantities to begin with. "These are going to be harder to come by than Kanye West's sneakers," Hotz told the audience.