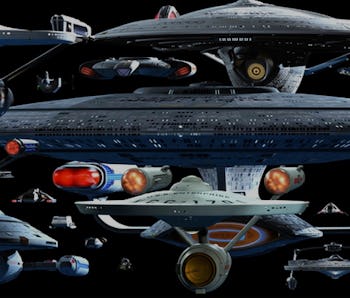 Entertainment
'Star Trek: Discovery' Casting News Confirms Multiple Starships
Pocket books
The voyages of the Starship USS Discovery won't be the only Starfleet vessel in the new show Star Trek: Discovery. Casting news for the hotly anticipated CBS show has revealed that another Federation starship called the Shenzhou will also feature prominently.
Variety is confirming that Michelle Yeoh's character will be named Captain Georgiou, and she'll be in command of a ship called the Shenzhou, and not the Discovery. This could mean that she's initially in command of the Shenzhou and then later takes command of the Discovery, but it could also just as easily mean something else. Perhaps the Shenzhou is in pursuit of the Discovery for the entire run of the series, or a few episodes. This would suggest that the Discovery is on a renegade or secret mission, separate from Starfleet and that the show will tell the stories of multiple crews.
Two other characters have also been named: Lt. Stamets (Anthony Rapp), a astromycologist, or studier of space fungi. Stamets is definitely said to be a member of the Discovery crew, and not the crew of the Shenzhou.
Meanwhile, the only other new character revealed is called Lt. Saru (Doug Jones) who is described as being a non-specific Starfleet "science officer" and also belongs to an alien species new to Star Trek. (As opposed to an alien species known by everyone else.) It's not clear if Saru serves on the Discovery or the Shenzhou, or somewhere else entirely.
Notably, none of the new cast as been confirmed to be playing Klingons or Romulans, two classic Trek alien species which have been rumored to be heavily involved with the plot of the show. But, it's fairly clear that Michelle Yeoh is probably not playing "Number One," the supposed female lead main character of the show. Previous reports had indicated that this "Number One" would not be a Captain, but the focus of Discovery nonetheless. Now that Yeoh's Captain Georgiou is not in command of the Discovery, it could mean there's some kind of antagonistic relationship between these two starships. Because while Star Trek does have historical examples of two starships teaming-up, it has even greater tradition of different starships duking it out, or playing cat-and-mouse with each other in space.
Star Trek: Discovery will premier on CBS All Access in spring 2017.