5 Netflix Movies to Watch the Second Thanksgiving Is Over
Holiday music starts playing the instant the turkey is eaten. Why not prepare your Netflix queue?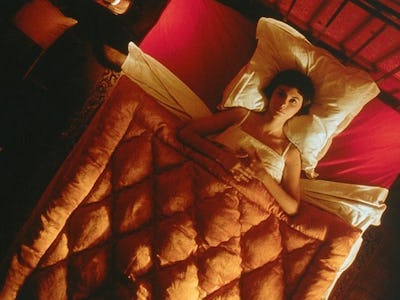 The second Thanksgiving ends, Christmas lights go up and holiday music begins to flow ubiquitously. Even if you're not standing anywhere near speakers, it will somehow find its way to you. Depending on what kind of person you are, you either enjoy this or find it tiresome. But whether or not you're looking to get into the holiday spirit, Netflix is currently streaming a perfect mixture of classics and movies that are generally heartwarming. Whether your a holiday enthusiast or a scrooge, there's something for everyone in this selection. In particular, check out these five.
1. Amelie
If you're not necessarily looking for a full-on holiday flick — not in the mood for It's A Wonderful Life or Miracle on 34th Street— but you want to dip your toes into the vibe, start with Amelie. Don't listen to what the nearest French person says, it's a pure delight. It combines warmth, whimsey, magic, and pretty much everything but goddamn unicorns. Not only does it work, it's got a killer soundtrack to boot.
2. Love Actually
This might be a controversial opinion, but Love Actually is not good at all. Why is it on this list, then? Firstly because many consider it a holiday classic, so there's a chance you might. But second and most importantly, the movie's existence is justified for Bill Nighy's fabulously unhinged turn as a washed-up self-important rock star. Even if a Love Actually grinch can enjoy his performance.
3. Scrooged
You could spend your holidays watching A Christmas Carol for the fiftieth time, or instead you could watch Bill Murray's madcap take on the famous tale. Elf might not be on Netflix at the moment, but give this film a shot.
4. Hot Fuzz
Like Amelie, Hot Fuzz is not strictly a holiday movie. But its idyllic small-town setting — give or take a handful of grisly murders — and its cozy yet labyrinthine plot creates a surprisingly perfect movie for watching with a mug of hot chocolate and a fire crackling in the background.
5. White Christmas
Because you'll hear the song everywhere anyway, for the next few weeks. You might as well watch it in context.
The holiday atmosphere is here to stay for the next month. Whether you enjoy it or not, you might as well curl up and add it to your Netflix and Chill schedule.