The Sun Looks Clean as Hell Right Now
There are almost no spots.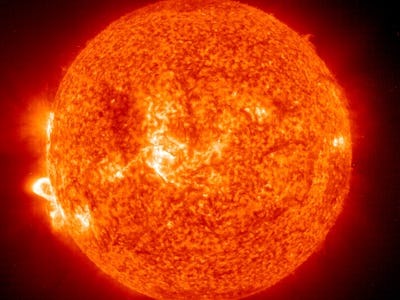 Getty Images / NASA
The sun could be the star of some interstellar Clearasil commercial right now, because there's barely a spot on it. According to NASA, our nearest star is looking so fresh and clean because it hit its lowest level of solar activity since 2011 — almost exactly five years ago.
On Monday, NASA's Solar Dynamics Observatory posted a video of our squeaky-clean sun, and explained that it was on its way to solar minimum, a time in the sun's roughly 11-year solar cycle when there are almost no sunspots. NASA describes it as a "pendulum-like pattern," and notes that there have been very, very few sunspots over the past "several days."
The last time the sun was this spotless was in 2011 in mid-November, during a stretch that lasted from the 14th to the 18th. A few years after that, the sun reached its most-recent peak of solar activity in early 2014.
NASA says the number of sunspots — normal, temporary blemishes on the star's surface as a result of reduced surface temperature in that area — has been declining faster than they expected, though it doesn't appear that the quicker rate will move up the solar cycle timeline. The sun is still expected to hit its true solar minimum in 2021.
Just because the sun is spot-free now, and headed towards an even cleaner future, doesn't mean there won't be some sunspot breakouts before then. In fact, they might be sprouting up with a vengeance. "No doubt more and larger sunspots will inevitably appear, but we'll just have to wait and see," NASA wrote in its blog post.