CNN's Thanksgiving Porn Mishap Was a Viral Fake News Hoax
Despite little evidence to back up the claim, many outlets ran with the scandal.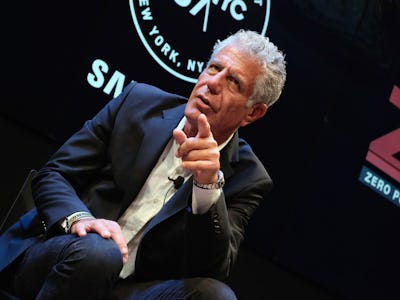 Getty Images / Mike Coppola
Following a claim by one Boston-area resident, CNN and a local cable provider denied that a broadcast of Anthony Bourdain: Parts Unknown was replaced by pornography. Like a lot of fake news that's been running rampant on social media recently, this story turned out to be a hoax.
It all started with Twitter user @solikearose. Late Thanksgiving night, the account tweeted that what's now being called the #BourdainPorn scandal, apparently ravaged CNN's food travel show. Instead of featuring the culinary expert traveling across the globe to feature unique delicacies, viewers were reportedly treated to an erotic movie featuring adult transsexual film star Riley Quinn.
"Did anyone else with RCN in Boston see the hardcore porn that was broadcast by CNN by mistake?" she asked online. "I can't wait until (RCN) wakes up (tomorrow) and realizes that hardcore porn was broadcast on (CNN) instead of ('Parts Unknown') tonight." The account has since been locked, with the profile claiming they received death threats and are still waiting for an apology from the cable provider.
The original tweet spread around the social media site, and can be seen below thanks to Twitter user @Jenn_Abrams.
Jeff Carlson, is a senior vice president and general manager of RCN Boston — the cable company accused of airing the debacle — told multiple news sources, "We are in the process of researching this incident but see no evidence our CNN network feed was compromised last evening in Boston."
The Daily Dot dug into the evidence a little more to point out how the supposed screen shot is a fake.
The Parts Unknown marathon itself was real, but @solikearose's images show incorrect information for the episode. They do, however, get the channel number correct as well as the HD formatting.
Why would anyone want to start a scandal like this? Boredom? Fun? We may never know. But this represents a larger issue that needs to be addressed: the proliferation of fake news.
Even if @solikearose was right, and porn was aired on CNN, a lot of news publications still ran a story without checking the facts. They based a story on individual tweets without confirming with the news station or cable provider first.
Fake news is a big problem with social media sites like Facebook being the biggest culprits. In an effort to combat this growing problem, Facebook CEO, Mark Zuckerberg, recently announced it was taking strides to help combat the issue on its site.