This Map Shows the World's Weirdest Tourism Slogans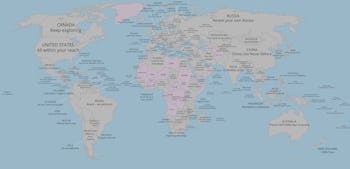 FamilyBreakFinder
Planning a trip? Tourism boards will try to sway you with fancy brochures, but perhaps the way to go is follow your instincts and book a trip solely based on the slogan. A new map from FamilyBreakFinder published Tuesday manages to solve this unlikely scenario by collecting the world's tourism slogans onto a single map. The world, as it turns out, is home to some fantastic slogans.
You can use your slogan to clarify any confusion about how exactly your country came into existence, like Italy's slogan, "Made in Italy." You can add a bit of mystery to proceedings, like Brunei, "A kingdom of unexpected treasures." Or you can go for something oddly alluring, like Switzerland, which has the slogan, "Get natural."
If you're not too sure, puns are always a solid bet. Ukraine has "It's all about U," Morocco has "Much mor," while Slovenia has "I feel SLOVEnia."
Or you can opt for something simple and straight-to-the-point. Jordan, home to some of the most gorgeous views in the world and a crucial center of culture and civilization for thousands of years, has gone for a slogan that captures all of this wonder and leaves the reader begging for more: "Yes, it's Jordan." In a similar vein, Finland has opted for "I wish I was in Finland," while Slovakia has "Travel in Slovakia — Good idea."
Just wherever you end up going, make sure to do your research on the cheapest plane tickets and best translation apps. Going on an impromptu trip based solely on a catchy slogan is one thing, but spending a lot of money and not understanding anyone is another thing entirely.
View the full map here.